Dictionary Home | Advanced Search | About the Dictionary | Abbreviations | Turning Points | Suggestions?
Dictionary of Wisconsin History
Search Results for: the letter 'I', Term Type: 'things'
Term: Indian treaties
Definition: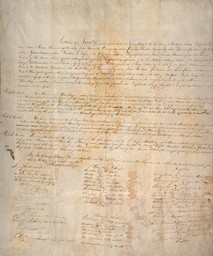 Treaty of Green Bay, 1821(WHI-27037)
More than 70 treaties were negotiated between the U.S. government and Wisconsin Indian nations between 1804 and 1854, in order for the land to pass from its original owners to white settlers. In these negotiations, factors such as cultural ignorance, misplaced benevolence, romantic paternalism, racism, malice, and plain human greed all played roles. The most important treaties are each summarized in this Dictionary; search the word "treaty" to see them. The complete text of all treaties is provided through Turning Points in Wisconsin History, where you can view more information.
[Source: Turning Points in Wisconsin History.]