Give BIG – Supporting the Wisconsin Historical Society
In 2020, the Wisconsin Historical Society has been celebrating BIG history in Wisconsin, and in December we are celebrating the BIG impact that our members and donors make! The State of Wisconsin provides just over 60% of our annual budget, but we rely on the support of history lovers like you to help us close the gap. Thank you for helping us collect, preserve, and share the stories of Wisconsin!
This year, your support means more than ever. The COVID-19 pandemic has made it harder to share the stories of Wisconsin, as we have had to close our physical locations and cancel our events and programs. We are also facing a $2.5 million revenue shortfall and more than $1 million in State budget reductions.
Please consider making a year-end gift to the Society today. Your gift, of any size, will make a BIG difference as we look for new and creative ways to bring Wisconsin history into people's homes and navigate the financial impacts of the pandemic.
If you're looking for other ways to support the Society, or want to know how your gift will make a difference, please take a look at the other resources on this page. Thank you for keeping Wisconsin history alive! Please contact us at 888-748-7479 or membership@wisconsinhistory.org with any questions.
The Impact of Your Gift
The State of Wisconsin provides sixty percent of the Wisconsin Historical Society's annual budget. Society programs depend on essential gifts, grants and earned income for the remaining forty percent. Your membership and additional donations help to close the funding gap and sustain the programs and services that benefit three million people each year and who rely on the Society each year as their trusted connection to history.
We are committed to making the most efficient use of your membership and donations.
With your investment today, you will help:
Make available one of the top five genealogical centers in the nation
Deliver innovative approaches in history education to teachers, students and history lovers
Offer engaging ways to experience Wisconsin history at 12 historic sites and museums
Support public and private efforts to protect Wisconsin's distinctive historic places
Acquire, conserve and share the largest collection dedicated to North American history outside of the Library of Congress
Provide outreach services and opportunities to historical societies throughout Wisconsin
Make many of these collections and services available both online and in person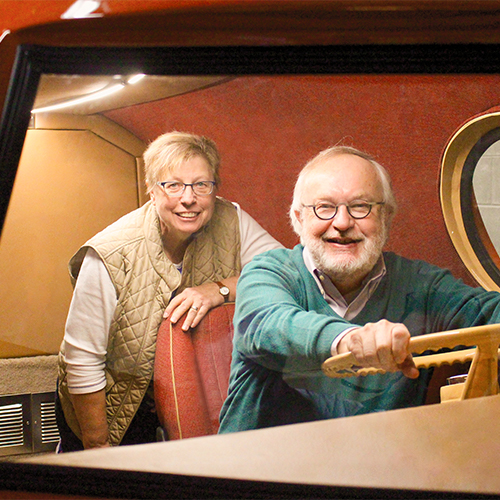 "If you have a love of history or an appreciation for what the Wisconsin Historical Society has done - and continues to do - then it's important to fund that for the future."
Ruth & Chuck Werth
Stay Connected
Stay tuned with social media to learn more about Wisconsin history. Check out our Youtube page to watch fun videos, or check in with Facebook and Instagram to read about what is new!