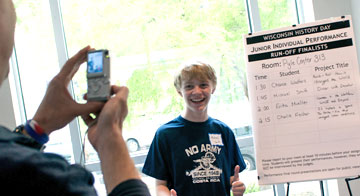 History Day Competitions
Students may choose to participate in the competitive event cycle by presenting their research at a series of local, regional, state, and national events. These events allow students to get feedback on their work from historians and professionals in the field. Foster history learning by attending a National History Day event in your area
READ MORE >
State Contest Information
Qualified regional contest winners advance to the NHD state event, held each May at the Wisconsin Historical Society and UW - Madison Campus in Madison, Wisconsin. Visitors are always welcome to this free event.
Past Results for the State Contest
Refine Search
Learn more about National History Day in Wisconsin competitions.
About History Day Competitions
National Contest on Facebook

Learn about recent national contest experiences by browsing our Facebook photo albums.
Have Questions?
Get information and advice from our helpful staff! Get answers to commonly asked questions about National History Day in Wisconsin.