History Day Resources for Teachers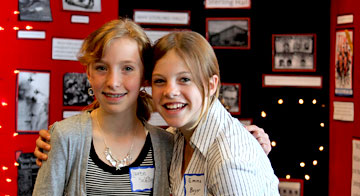 History Day Resources for Teachers
See the wide variety of resources available to teachers to support National History Day in the classroom.
Theme and Topic Information
Read an overview of the annual theme, its scope and how it relates to sample topics.
Get inspired to select a Wisconsin topic for your National History Day project.
Special awards are offered by sponsoring institutions. See a list of topics for this year's competitions.
Standards Correlation
Learn how to select a topic using this year's theme.;
See the connections between National History Day and Common Core standards
See how National History Day can help you to meet a breadth of standards.
Learn the benefits for teachers and students when they participate in National History Day
Refine Search
For more information on history day resources for teachers
National History Day Resources
Contest Information
Stay Informed
Sign up to get this year's National History Day in Wisconsin curriculum packet or stay informed by signing up for monthly E-Newsletter updates. If you have questions, email us to get information and advice from our helpful staff!
Get the contest rules, an introductory student guidebook, a teacher's handbook, theme information, and project ideas. Get essential information on National History Day contests, workshops and web resources.
Email us to get answers to commonly asked questions about National History Day in Wisconsin.
Have Questions?
Get information and advice from our helpful staff! Get answers to commonly asked questions about National History Day in Wisconsin.

`