Wisconsin Historical Society New Museum Project Highlights

Enlarge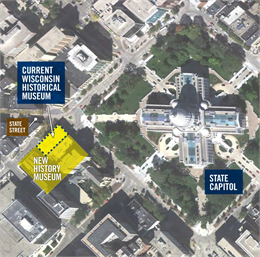 Like us, you believe that history matters. That people appreciate history through the telling of good stories. That our past inspires us, gives meaning to our lives, informs our decisions and is critical to our future.

Thank you for your interest in the exciting plans for a new Wisconsin History Museum – a 21st-century museum that will share history like nothing that exists today.
OVERVIEW
The idea of a new history museum has existed for almost two decades.
The new museum will serve as a hub for statewide history education and outreach.

Allow nearly twice as many school children and teachers to visit each year.
Offer ample space for displaying our state's large, iconic objects.
Transform the way Wisconsinites see themselves in the story of Wisconsin.
Reach residents in all 72 counties through distance learning technology.
Feature stories from around the state with changing and traveling exhibits.
Address major problems with the current museum including public safety, failing technology and maintenance issues.

Governors Thompson, Doyle, and Walker all support the planning for the new museum.
The Wisconsin Historical Society, neighbors on Block 75 of the Capitol Square, and the State are discussing a mixed-use development that would allow the museum to expand its current footprint to 100,000 gross square feet.
The museum project is estimated to cost $120 million with funds from the State of Wisconsin and private donors.
The State of Wisconsin recently committed $70 million to the project if the Wisconsin Historical Society raises $50 million in private donations.
Underground parking is currently part of the plan.
If you would like to be the first to know about exciting developments with the new museum project, become a member of the Wisconsin Historical Society today!
We hope you'll stay tuned to learn why this extraordinary project will transform how history is gathered, shared and experienced across Wisconsin for the next century! If you would like to learn more about the Campaign for a New Wisconsin History Museum, please contact Julie Lussier, Wisconsin Historical Foundation Director of Development, at 608.261.9587 or julie.lussier@wisconsinhistory.org.