Classroom Material
Teaching with The Mammoth Mystery
Grade level: Elementary
Duration: One class period
Enlarge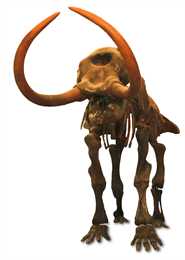 Boaz Mastodon Skeleton
Madison, Wisconsin. Source: University of Wisconsin-Madison Geology Museum
The Mammoth Mystery is an interactive feature a part of the Wisconsin Historical Society's website designed to actively engage students to explore topics in Wisconsin history. This activity reinforces students' knowledge gleaned from working through The Mammoth Mystery, which looks at Paleo-Indians, archaeology, and the Kenosha county mammoth.
Objectives
Students will:
Learn about the earliest mammoth found east of the Mississippi River and what its discovery has meant to archaeological research in Wisconsin
Use note-taking skills as they progress through the Mammoth Mystery Web site
Work independently
Demonstrate what they have learned as they respond to specific written questions
Work cooperatively as they share work with their classmates
Background
The Mammoth Mystery is a virtual narrative of how a mammoth bone in the collection of the Kenosha County Museum led to the rediscovery of a significant archaeological site in Kenosha County. The cutmarks on this mammoth femur proved that Paleo-Indian people were living in Wisconsin between 10,000-12,000 years ago, much earlier than most archaeologists had believed possible. We have introduced the Kenosha County Mammoth to students in Digging and Discovery: Wisconsin Archaeology on pages 13-17.
Resource Materials
Procedures
If you have copies of Digging and Discovery: Wisconsin Archaeology, have students review chapter 2, pages 9-18, to understand the complete context of the Kenosha County discovery.
Have individual students or pairs of students work through The Mammoth Mystery, taking notes to use for the content reinforcement/assessment activities below. The first two activities (A and B) are combined in one pdf (downloadable file) that can be reproduced as a student worksheet.
Sentence Synthesis (PDF, 155 KB)
After students view the program, put three words on the board (i.e.: 1964, Mr. Schaefer, Kenosha County). Instruct the students to write a meaningful sentence from the three words, then compare the sentences. Other examples:

Grid, bones, Paleo-Indians;
Rib, Paleo, shovel
Radiocarbon, archaeologists, bones.

Writing a Summary Paragraph (PDF, 155 KB)
Using a skeletal frame, guide students in writing a summary paragraph.
The Five W's
Place Mammoth Mystery as the middle of a web with bones labeled who, what, when, where, and fanning out from the mammoth. Instruct students to answer the questions with relevant information.
The Mammoth Tree
Provide a large outline of a mammoth. Inside the mammoth, draw a tree of blank lines. Students will write words on each line correlating with a theme. On line 1, write the name of the animal being investigated. On line 2, write the names of people doing the investigating. One line 3, write the names of tools used. On line 4, write one-word clues.
Credit
This teacher-submitted, elementary-level activity is linked to students' use of The Mammoth Mystery.
Author: Marilyn Penn, Royal Oaks Elementary School, Sun Prairie.