General Information
Local History-Field Services Program
Support and Services for Local History and Preservation Groups in Wisconsin
Enlarge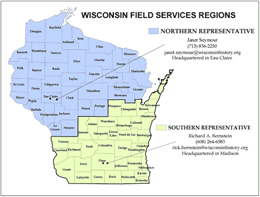 Wisconsin Field Services Regions
Use this map to identify the correct contact person for your county.
The Wisconsin Historical Society's two Local History-Field Services locations offer support and services to more than 395 affiliated local historical societies, as well as historic preservation groups and individuals.
Southern Wisconsin is served from the Wisconsin Historical Society headquarters in Madison.
Northern Wisconsin is served from the University of Wisconsin - Eau Claire campus.
Field Services Staff
Richard Bernstein
Southern Local History-Field Services Representative
Wisconsin Historical Society
816 State Street, Room 455
Madison, WI 53706-1482
Phone: 608-264-6583
Email: rick.bernstein@wisconsinhistory.org
---
Janet Seymour
Northern Local History-Field Services Representative
c/o University of Wisconsin-Eau Claire, Hibbard 733105
Garfield Avenue
Eau Claire, WI 54701-4004
Phone: 715-836-2250
Email: janet.seymour@wisconsinhistory.org
Connect With Us!
There are many ways to connect with Field Services and local history experts across the state!
Join the Local History LISTSERVE
This group is for anyone interested in communicating with local history colleagues in Wisconsin (and beyond.) You can ask questions, seek advice, post events, and much more. Join by sending an email to: localhistory-request@listserve.uwec.edu and type SUBSCRIBE in the body of the email. Questions or problems, contact Janet Seymour.
Connect with Local History-Field Services on Facebook
Have Questions?
Contact one of the Society's Field Services representatives by email:
rick.bernstein@wisconsinhistory.org