Classroom Material
Impact of War on Family Relationships
Wisconsin World War II Stories: The Home Front
Enlarge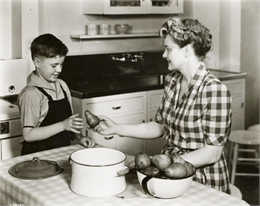 Woman and Boy with Pears, 1943
A woman seated at a kitchen table hands a pear to a young boy standing next to her. View the original source document: WHI 50833
Grade level: Secondary
Duration: One class period
Some soldiers came to know their children through letters. Soldiers had only letters (and, on rare occasion, the opportunity to make a phonograph recording of a few minutes' duration) to keep in touch with loved ones. In the lessons below, students will read about family relations during war, create their own letters, and hold discussions on the impact of war on family relationships.
"Wisconsin WW II Stories: Home Front" contains several stories about family life and the difficulties inherent in maintaining family during wartime. Jean Lechnir, of Prairie du Chien, in the segment called "I Still Cry," explains the loneliness and fear of being a new mother while her husband was at war. Roland Soucy of Manitowoc was married on May 15 and left for the war on July 3 of the same year. Eighteen months later was the first time he saw his daughter. Richard Haney of Whitewater tells of a fishing trip he took with his father in 1943. He explains how fortunate he feels that he has at least some memories of his father who was killed in 1945. "183,000 children lost their fathers in World War II." Most of them, he believes, have no recollection of their fathers.
Objectives
Students will:
Use NARA document analysis techniques to analyze primary sources
Understand the impact of WWII on family relationships
Background
The fourth video in this series recounts the varied stories of home front experience. Although textbooks generally include this previously understudied subject, too often the focus is quite narrow, leaving students with an incomplete picture of home front society. In contrast, Wisconsin WWII Stories: Home Front offers a wider history, incorporating both traditional and new themes.
Topics included are: the industrial employment of both women and men, the importance of wartime farm production, community interactions with enemy prisoners of war, the work of German POWs in the food production industry, the need for teachers and nurses at industrial plants, and the forced relocation of Japanese Americans. Information is also included about leisure time activities such as listening to records and the radio, going to films, and attending parties and dances helps students understand that social activities continue during wartime.
During World War II, men and women fell in love, got married, and had children. Hearing the stories of children who were born after their fathers went to war reminds students that wartime sacrifices are not limited to soldiers and adults. According to one witness, "183,000 children lost their fathers in World War II." These lessons show that the home front war included every aspect of American life.
This lesson is one of four lessons related to Wisconsin Public Television World War II Stories video series. Depending upon time available, the lessons may be used with the videos, or they can stand alone. Since the subject of the video is World War II Europe, several of the lessons could be used in a World History or European History course as well as in U.S. History. Specifically, these lessons offer greater depth on the topics found in video one, The Struggle, although you will notice some overlap. They should provide students with a smooth transition to deeper study of World War II.
Resource Materials
Procedures
If possible, have students watch Wisconsin WWII Stories: Home Front.

Have students read the article found in the OAH Magazine of History, "Fatherhood, Childhood, & War: 1945."

Follow up with a large group "chalk talk." Have students list the key ideas from Professor Griswold's article on the board.

Have students write a fictional letter, taking the role of a Wisconsin teenager whose father was overseas during World War II. Use the "Dear Dad... World War II Letters" Worksheet.

Have students exchange and read the fictional letters. Then, divide the class into small groups of 3-4 students to discuss the answers to the questions found on the same worksheet.

Bring students back together for a large group brainstorming of modern forms of communication between soldiers who are overseas and their families. Have students complete Question 1 of the "Long Distance, Please" Worksheet. List students' answers on the board.

The teacher should select four forms of communication listed on the board for the "Four Corners Activity." Assign the rest of the "Long Distance, Please" Worksheet.

Discuss benefits and drawbacks of modern forms of communication compared with those of World War II. If available, have students share letters or e-mails their families have received from soldiers overseas.
Standards
National Standards for United States History: Exploring the American Experience
(National Center for History in the Schools, UCLA)
Standard 3
The causes and course of World War II, the character of the war at home and abroad, and its reshaping of the U.S. role in world affairs.
Standard 3C
The student understands the effects of World War II at home.
| GRADE LEVEL | THEREFORE, THE STUDENT IS ABLE TO |
| --- | --- |
| 5-12 | Explain how the United States mobilized its economic and military resources during World War II. |
| 7-12 | Evaluate how minorities organized to gain access to wartime jobs and how they confronted discrimination. |
| 5-12 | Evaluate the internment of Japanese Americans during the war and assess the implication for civil liberties. |
| 7-12 | Analyze the effects of World War II on gender roles and the American family. |
| 9-12 | Evaluate the war's impact on science, medicine, and technology, especially in nuclear physics, weaponry, synthetic fibers, and television. |
Wisconsin's Model Academic Standards for Social Studies
Standard B - History: Time, Continuity, and Change
| REFERENCE NUMBER | BY THE END OF GRADE 12 STUDENTS WILL |
| --- | --- |
| B.12.1 | Explain different points of view on the same historical event, using data gathered from various sources, such as letters, journals, diaries, newspapers, government documents, and speeches |
| B.12.2 | Analyze primary and secondary sources related to a historical question to evaluate their relevance, make comparisons, integrate new information with prior knowledge, and come to a reasoned conclusion |
| B.12.4 | Assess the validity of different interpretations of significant historical events |
| B.12.5 | Gather various types of historical evidence, including visual and quantitative data, to analyze issues of freedom and equality, liberty and order, region and nation, individual and community, law and conscience, diversity and civic duty; form a reasoned conclusion in the light of other possible conclusions; and develop a coherent argument in the light of other possible arguments |
| B.12.6 | Select and analyze various documents that have influenced the legal, political, and constitutional heritage of the United States |
| B.12.9 | Select significant changes caused by technology, industrialization, urbanization, and population growth, and analyze the effects of these changes in the United States and the world |
| B.12.18 | Explain the history of slavery, racial and ethnic discrimination, and efforts to eliminate discrimination in the United States and elsewhere in the world |
Credit
These lesson plans are designed to be used with Wisconsin World War II Stories: Part IV: Home Front, a video series created by Wisconsin Public Television and the Wisconsin Historical Society, in association with the Wisconsin Dept. of Veterans Affairs. The lessons in this part of Wisconsin World War II Stories span interest areas and levels. They include geography, technology, and human interest studies, and draw upon a wide array of social studies skills. Information on the series can be found at Wisconsin World War II Stories website.
Author: Victoria Zuleger Straughn