Field Trip or Tour
'Family Pastimes' Field Trip
Old World Wisconsin - a historic site
While experiencing this field trip in the Yankee Area of the Crossroads Village students will:
Enjoy favorite 19th century toys and games inside Harmony Town Hall
Play graces and send hoops rolling outside Harmony Town Hall
Visit with animals in neighboring farms
Enlarge
Old World Wisconsin in Eagle, WI
Enjoy an hour of your favorite hands-on activities at Harmony Town Hall and neighboring farms, including historic board games, toys, hoops and sticks, and interactive animal encounters.
Enlarge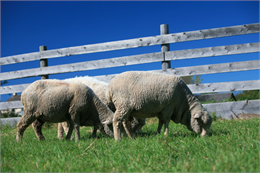 Old World Wisconsin in Eagle, WI
Visit with animals in neighboring farms just as children did in the 1800s.
Program Details
Attribute
Description
Length
60 minutes
Availability
Weekdays, late Apr - mid Jun; late Sep - late Oct
Maximum group size
Our mix-and-match scheduling options allow you to customize tours for any size group, from 10 students to more than 150. For example, three total stations can accommodate up to a maximum of 75 students at a time. If you schedule two or more 1-hour programs simultaneously, a group of 150 students can attend.
Location
The Crossroads Village at Old World Wisconsin, Eagle, WI 53119
Lunch
Time can be scheduled for students to eat a sack lunch on the grounds.
Grade Level
3rd - 12th
Cost
$5 for two different one-hour programs

$7 for three different one-hour programs

Free adult admission with every 10 students

$13 each additional adult admission

Our mix-and-match 1-hour programs allow you to make your own unique Old World Wisconsin experience. Choose two or three selections from seven 1-hour tour options for a full day experience.
Reserve Your Field Trip
Create a custom tour today that can include two or three hour-long themed programs, a tram tour, a brief video presentation about Old World Wisconsin, lunch on the grounds, and/or a visit to our museum gift shop.
See the Old World Wisconsin website to reserve your field trip. Or call 262-594-6301 or email us.
About Old World Wisconsin
Old World Wisconsin is the largest outdoor museum of rural life in the United States. Explore 19th century rural Wisconsin, a time when waves of immigrants flocked to America's heartland in search of a better life.
Directions, Transportation, Parking
To get directions, parking maps, and more see Location and Directions to Old World Wisconsin.
Learn More
Learn more about Old World Wisconsin field trips.