Field Trip or Tour
'Why History Matters' Guided Tour
Wisconsin Historical Museum Field Trip
On this guided tour of the Wisconsin Historical Museum students will:
Be introduced to the main themes of the most recent 200 years of Wisconsin history.
Discover how artifacts reflect history and what they reveal about our lives today.
Be challenged to think critically about Wisconsin history and create personal connections to the past through museum exhibits.
Tour guides utilize the "Thinking Like a Historian" educational model, in which students are expected to actively participate by offering reactions and questions to their guide and classmates.
Wisconsin Historical Museum field trips support and enhance core language arts standards while uniquely providing a different learning environment for students. Museum programs support "Common Core English Language Arts Standards for Reading: Informational Text and Speaking and Listening." Program content and Wisconsin Department of Public Instructions standards will vary based on the personality of the content expert who guides the group through the Museum. Learn more about how our tours meet Wisconsin's standards.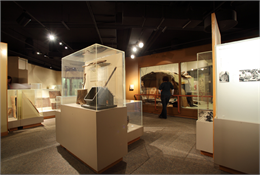 Wisconsin Historical Museum
See museum objects and hear stories of native people, settlement days, immigrants' experiences and politics.
Program Details
Attribute
Description
Length
90 minutes: One-hour tour and 30 minutes of self-guided time to explore exhibits not covered in the presentation
Availability
Tuesday-Friday, year-round
Maximum group size
160
Location

Wisconsin Historical Museum located in downtown Madison at the corner of West Mifflin Street and North Carroll Street on the Capitol Square

Lunch
Time can be scheduled for students to visit the Museum store, watch a film in our theatre, or eat a sack lunch in our seasonal exhibit space
Grade Level
Elementary students
Cost

$4 per student

$4 per adult chaperone, fees are waived for school employees

Schools with a 50 percent or greater economic disadvantage rate as determined by the Department of Public Instruction may qualify for reduced rates. Groups visiting during January and February may also qualify for fee reductions
Reserve Your Field Trip
Call our Tour Services Coordinator at 608-264-6557 or email us in advance to reserve your field trip. We will work with you to identify your group needs and tailor a program to enhance your Museum visit. Learn more about Museum Field Trip Reservations.
About the Wisconsin Historical Museum
The Museum features artifacts and exhibits that tell about the stories and shared experiences of the many cultures that settled in this remarkable state.
Directions, Transportation, Parking
To get directions, parking maps, and more see Location, Directions and Transportation to the Museum.
Learn More
To get the latest information our exhibits, field trip packages, and tips for a successful visit, see Wisconsin Historical Museum field trips.