Historical Essay
How Two Boys From Milwaukee Created the World's Largest Motorcycle Company
A Brief Biography of Bill Harley and Arthur Davidson
Note: This is a grade-level appropriate biographical essay about a significant figure from Wisconsin's past and was originally part of the "Essays for the Elementary Student" series.
Enlarge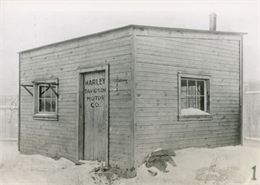 First Harley-Davidson Shop
Milwaukee, Wisconsin. The original shop in the Davidson family backyard where the first Harley-Davidson motorcycles were assembled. View the original source document: WHI 43394
Enlarge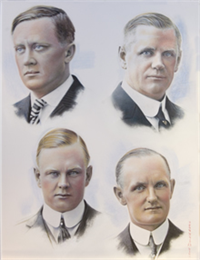 Harley-Davidson Founders
The founders of Harley-Davidson. They are clock-wise from upper left: William S. Harley, William A. Davidson, Walter Davidson Sr., Arthur Davidson.
Do you love the sound of motors? Do you take things apart and try to put them back together? Bill Harley and Arthur Davidson loved to work with motors, bicycles and anything mechanical. They loved it so much that they dedicated their lives to building a better motorcycle.

Bill and Arthur started the world's most famous motorcycle company, Harley-Davidson. Bill was born on December 29, 1880. Arthur was born on February 11, 1881.
Childhood Inspiration
Bill Harley and Arthur Davidson grew up as childhood friends in Milwaukee, Wisconsin. They did what many kids still do. They fished, rode their bikes and went to school. Both boys loved to tinker with engines. Bill and Arthur were inspired by seeing the first motorcycle ever built, the Pennington. Pennington's motorcycle didn't really work all that well. Still, it was enough to spark ideas in the heads of the two young boys.
Bill and Arthur still had some growing up to do. Bill went to work as a draftsman at an electrical motor shop. Arthur worked at the same shop as a patternmaker. Their skills complemented each other. In 1901, Bill Harley came up with some plans for a bicycle with an engine. He and Arthur were on their way toward building a better motorcycle!
Bill and Arthur were joined by two of Arthur's brothers, Walter and William Davidson. They both had access to the special tools needed to create motorcycle parts. Other inventors like Ole Evinrude helped the boys get their motor working better. It took years to get it right. When they first started selling motorcycles, they had fewer than five to sell. By 1906, they were selling 50 or more per year. Now they needed some good advertising!
Ride to Victory
Enlarge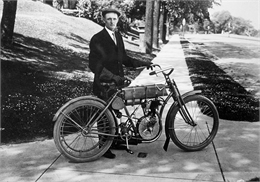 Walter Davidson, 1908
Walter Davidson with Harley-Davidson motorcycle, after winning the Endurance Race in 1908. Walter used his brother Arthur Davidson and Bill Harley's motorcycles in races to help promote them.
Luckily, Walter Davidson was not only a talented machinist. He was also an excellent motorcycle rider. Walter raced his Harley-Davidson motorcycle to victory. Winning races helped convince people to buy Harley-Davidson motorcycles.
Bill and Arthur both stayed with the Harley-Davidson Motor Company up until the time they died. Bill died in 1943 and Arthur in 1950. The men had come a long way from the family shed in the backyard. Their company made thousands of motorcycles every year. People all over the world rode Harleys. Bill Harley and the Davidson brothers had built a better motorcycle and the world had noticed.
Reading Level Correlations
Learn More
"Harley and the Davidsons: Motorcycle Legends"
Read more about Harley-Davidson in the Badger Biographies book "Harley and the Davidsons: Motorcycle Legends," available from the Wisconsin Historical Society Press.
See articles, essays, photos and more.