Enlarge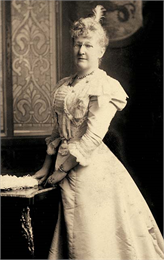 Catharina Seipp
Catharina Seipp, second wife of Conrad Seipp, was the matriarch of the estate.
Celebrate Mother's Day weekend honoring the remarkable women of Geneva Lake while taking a voyage with the Lake Geneva Cruise Line to Black Point Estate, an 1888 Queen Anne Victorian "summer cottage." This narrated boat tour will focus on many of the remarkable women who have lived along the shore of Geneva Lake. The event includes a first-floor tour of Black Point and a presentation on the remarkable women of the estate. Mimosas and chocolate-covered strawberries will be served on the veranda before returning to the boat.
Location
Black Point Estate
812 Wrigley Drive (Boat Dock)
Lake Geneva, WI 53147
Location Information
Black Point Estate is located on Geneva Lake in southeastern Wisconsin. Visitors travel to the site via boat. Tickets can be booked through Lake Geneva Cruise Line, a private tour company. Boat rides depart from and return to Riveria Docks in downtown Lake Geneva. The entire tour takes approximately three hours. Call the Lake Geneva Cruise Line at 262-248-6206 for more information.
Accessibility Information
Access to Black Point Estate from the boat dock requires navigating 120 steps. Visitors requiring assistance with wheelchair accommodations should call the site at 262-248-1888.