Enlarge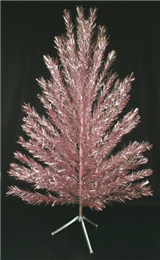 Pink evergleam aluminum Christmas tree, c. 1966
Source: Wisconsin Historical Museum object #2005.174.1.1
Aluminum Christmas trees became popular in the 1960s and a Wisconsin business, The Aluminum Specialty Company, became the largest manufacturer of these trees. Their tree, the Evergleam, became a remarkable success. Join Society Curator Joe Kapler to discover the history behind these trees, learn about their incredible resurgence in popularity, and hear how the Wisconsin Historical Society came to collect them. Be sure to view the Museum's dazzling display of Evergleams after the presentation!
Bring a lunch to this informal lunch-and-lecture series.
Location
Wisconsin Historical Museum
Wisconsin Historical Museum, 30 N Carroll St
Madison, WI 53703
Location Information
Four floors of changing exhibit galleries, permanent exhibits and the museum store ― located on Madison's Capitol Square
Accessibility Information
The site is fully accessible to visitors requiring a wheelchair for mobility.