Enlarge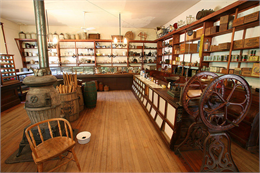 Interior of The Farmers Store and Meat Market
Visit Stonefield to explore this convenience store of the early 1900s.
Celebrate the Great River Road with music, an antique tractor pull, wagon rides, sorghum making, blacksmithing, broom making, hands on activities, and much much more!
In 1938, President Franklin D. Roosevelt established the Great River Road along the Mississippi, following the river for nearly 3,000 miles through 10 states. Stonefield Historic Site, a Great River Road Interpretive Center, celebrates the history of the Great River Road. Come see for yourself why the Great River Road in Wisconsin was voted the "Prettiest Drive" in America by the readers of the Huffington Post!
Location
Stonefield
Stonefield, 12195 County Hwy VV
Cassville, WI 53806
Location Information
Stonefield comprises a re-created 1900-vintage rural farming village and the State Agricultural Museum, which traces the history of Wisconsin agriculture from its inception to the 20th century. Stonefield, named after the estate farmed by Wisconsin's first governor Nelson Dewey, also includes Dewey's home site.
Accessibility Information
Reasonable accommodations will be made for individuals requiring wheelchairs for mobility. Call ahead to make arrangements.