Enlarge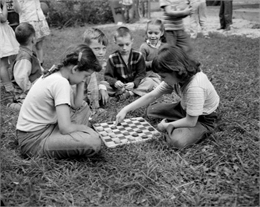 Madison Playground Scenes
Sherry Klein (right) plays a game of checkers with Janice Wirioff at the Milton-Charter park playground as Edward Lambert, Kenneth and Shirley Bloom looking on. View the original source document: WHI 66014
Wisconsin may be known as "The Dairy State," but it could just as well be called "The Fun & Games State." Explore the popularity of Wisconsin's recreational places, sports, and special events in the interactive display and activity space Wisconsin at Play. Discover how Wisconsinites have relaxed, enjoyed athletic activities, and socialized through family craft activities and marvelous images from the collections of the Wisconsin Historical Society.
Enlarge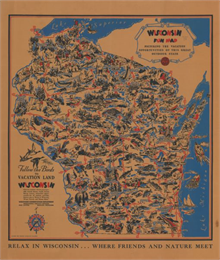 Wisconsin Fun Map
This pictorial tourist map from the Wisconsin Conservation Commission depicts vacation activities and identifies tourist destinations throughout the state. View the original source document: WHI 92973
Location
Wisconsin Historical Museum
Wisconsin Historical Museum, 30 N Carroll St
Madison, WI 53703
Location Information
Four floors of changing exhibit galleries, permanent exhibits and the museum store ― located on Madison's Capitol Square
Accessibility Information
The site is fully accessible to visitors requiring a wheelchair for mobility.