Enlarge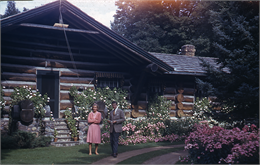 Mary Griggs outside Forest Lodge in 1960
This exhibit explores a piece of Lake Namekagon shoreline property and the three generations who cared, loved, and preserved the 872 acre estate outside of Cable WI. In 1999, Mary Griggs Burke donated the property to the U.S. Forest Service ensuring the property would continue to be cared for and remain intact well into the future. The exhibit will be on view until October 30, 2017.
Location
Northern Great Lakes Visitor Center
Northern Great Lakes Visitor Center, 29270 County Hwy G
Ashland, WI 54806
Location Information
The Northern Great Lakes Visitor Center features a regional history center and archives, gift shop, art gallery, theater and a five-story observation tower offering a panoramic view of Lake Superior and the Apostle Islands region. Hike our trails! We have a 3/4-mile boardwalk interpretive trail that's not to be missed. Your cost is only time well spent.
Accessibility Information
Fully accessible to individuals requiring wheelchairs for mobility.