Enlarge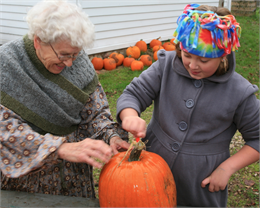 Wade House visitor enjoys carving a pumpkin.
One of the many things to do at Wade House's Autumn Celebration.
Revel in the traditions of the fall season during Wade House's "Autumn Celebration". Guests will learn about the traditional harvest season in Wisconsin. The event includes a variety of family friendly activities including turnip and pumpkin carving, apple cider tasting, open-air horse-drawn wagon rides and more.
The experience will begin outside on the Wade House lawn, where visitors will get to carve a turnip into a traditional Irish jack-o-lantern, or a pumpkin into the better-known North American lantern (while supplies last). Guests will also get a chance to dip candles and watch as Wade House staff dye wool shorn from Wade House sheep using dye from the site's flower garden. Inside the 1850 Wade House stagecoach hotel, visitors will enjoy a taste of warm apple cider in the hotel's 19th century summer kitchen.
In the blacksmith shop, guests will have the opportunity to play snap apple, a traditional Halloween game. Snap apple participants will try to take a bite of an apple as it dangles in front of them.
Location
Wade House
Wade House Historic Site, W7965 State Hwy 23
Greenbush, WI 53026
Location Information
Wade House, an 1850s stagecoach inn built to serve traffic along the plank road that connected Fond du Lac and Sheboygan, tells the story of frontier entrepreneur Sylvanus Wade and his family during the Civil War years. In addition to the inn, the historic site includes the recently reconstructed Herrling sawmill, one of the few working, water-powered sawmills of its kind in the nation. Wade House is also home to the Wesley Jung Carriage Museum, which houses the state's largest collection of antique carriages and working wagons.
Accessibility Information
Reasonable accommodations will be made for individuals requiring wheelchairs for mobility. Call ahead to make arrangements.