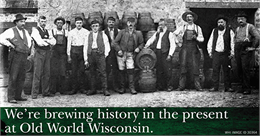 Brewing History
Potosi Brewery employees pose with barrels outside the brewery. View the original source document: WHI 30364
Old World Wisconsin and the Museum of Beer and Brewing are partnering and bringing to life 19th-century brews. See the brewers use equipment and techniques from the late 1800s and learn about heirloom hops and barley.
By reconstructing immigrant brewing processes we are illuminating important aspects of our state's culture, industry and German heritage. Historically, breweries were located in nearly every small village in Wisconsin during the 19th century and were cultural focal points.
Old World Wisconsin is pleased to welcome Sprecher Brewing Company as our Featured Brewery on October 6.
Featured Breweries are a living tradition. Their work allows us to preserve the past and keep our cultural connections to agriculture, immigrant cuisine, and craft specialization alive and flourishing in Wisconsin. During your visit, make sure to stop by Life on the Farms Picnic Area to fully engage your senses by treating yourself to a cold brew while learning more about Wisconsin's rich brewing history.
Your purchase of a Featured Brewery beer supports Old World Wisconsin's Historic Brewing program.
Today we will be brewing a Bock Beer.
The brewing process will begin by 10 am and conclude by 3pm.
Event may be cancelled if there is inclement weather.
The Flavor of Wisconsin
Join the Wisconsin Historical Society's celebration of flavors that connect us to our diverse heritage in the most delicious way. With exhibitions, demonstrations, tours, and tastes around the state, The Flavor of Wisconsin brings to life the history and living traditions that make us who we are. See all our flavorful events here.
Location
Old World Wisconsin
W372 S9727 Hwy 67
Eagle, WI 53119-9503
Location Information
Old World Wisconsin documents the settlement of 19th- and early 20th-century Wisconsin. It comprises an 1870s crossroads village and 10 ethnic farmsteads located on 576 acres of wooded hills in the Southern Unit of Kettle Moraine State Forest.
Accessibility Information
Reasonable accommodations will be made for individuals requiring wheelchairs for mobility. Trams are equipped to transport visitors using wheelchairs during regular museum operating hours. Call ahead to make arrangements at 262-594-6301.