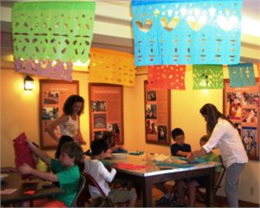 Papel picado making at Folklore Village
Colorful and festive, traditional papel picados are easy to make and bring great joy to the artists who make them. Kids and families will learn the history and folklore of papel picados and about the people who make them. Children will be asked to think about how their families, schools, and neighborhoods decorate for special occasions.
This workshop has a maximum participation of 25 people, and is available on a first-come, first-served basis. Arrive a little early to make sure you can make these fun papel picados!
About Folklore Village
Folklore Village creates opportunities for individuals and communities to celebrate, experience and support ethnic and traditional folk life.
Folklore Village offers an ongoing program of cultural, educational and participatory folk life activities in rural Southwest Wisconsin, serving regional communities and the Upper Midwest.
Location
Wisconsin Historical Museum
Wisconsin Historical Museum, 30 N Carroll St
Madison, WI 53703
Location Information
Four floors of changing exhibit galleries, permanent exhibits and the museum store ― located on Madison's Capitol Square
Accessibility Information
The site is fully accessible to visitors requiring a wheelchair for mobility.