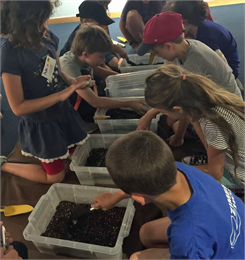 Diggin' Archaeology
What will you uncover?
Discover how archaeologists piece together the past to learn how people lived hundreds and even thousands of years ago, and work like an archaeologist to uncover what you may leave behind!
About Badger Explorations Youth Workshops
There's so much to explore in Wisconsin! Join us each month to dig into a different part of Wisconsin's story. Each workshop includes a tour or scavenger hunt, a hands-on group activity, and a craft project to take home. This is perfect for families who are looking for something fun and new as well as Scout or youth groups looking for an exciting, educational group outing. Workshops run approximately 90 minutes.
Workshops are appropriate for kids in grades 2 – 5.
All youth must be accompanied by an adult chaperone, and there is a maximum of 5 kids per adult chaperone.
A minimum of 10 youth participants must be registered by March 4th. Any cancellation of the workshop due to low registration numbers will be refunded to registrants.
Badger Explorations: Artsy Wisconsin will take place on April 13th.
Location
Wisconsin Historical Museum
Wisconsin Historical Museum, 30 N Carroll St
Madison, WI 53703
Location Information
Four floors of changing exhibit galleries, permanent exhibits and the museum store ― located on Madison's Capitol Square
Accessibility Information
The site is fully accessible to visitors requiring a wheelchair for mobility.