Enlarge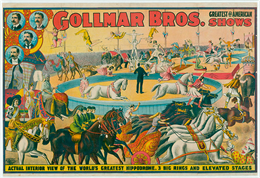 Poster from the Gollmar Bros. Circus
The Gollmar Bros. Circus of Baraboo, Wisconsin (1891-1916); first cousins of the Ringling brothers, who owned and operated a medium sized circus.
Join Pete Shrake, Archivist at Wisconsin Historical Society's Circus World Museum, as he explores the colorful and extravagant history of the American circus poster. Trace the development of this unique form of advertising from the early 19th century to the present day. Witness the labor intensive artistic process required to create these astounding works of art. Marvel at the lengths the circus advertising men went to use these posters to announce the coming of a show the likes of which no one had ever seen before!
Next Event in the Series
The next event in the series will take place Tuesday, April 2.
Location
Wisconsin Historical Museum
Wisconsin Historical Museum, 30 N Carroll St
Madison, WI 53703
Location Information
Four floors of changing exhibit galleries, permanent exhibits and the museum store ― located on Madison's Capitol Square
Accessibility Information
The site is fully accessible to visitors requiring a wheelchair for mobility.