Enlarge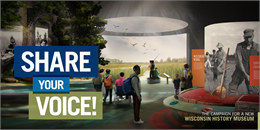 Share Your Voice! Madison Multicultural Session
Multicultural Engagement Series to Create a New Wisconsin History Museum
The Wisconsin Historical Society values building relationships with multicultural communities in order to integrate authentic perspectives from diverse populations into the new museum.
Share your thoughts and ideas with us as we seek to create a modern, state-of-the-art, and inclusive history museum that connects and tells the stories of Wisconsin's diverse people.
Your participation will inspire conversations, create connections across the state, and provide invaluable feedback on design concepts for a new Wisconsin history museum.
Agenda

6:00 pm - Welcome and introduction to the new museum project
6:30 pm - Share your feedback on a new statewide history museum
*Doors open 30 minutes early (light refreshments will be provided)
The purpose of this event is to seek feedback from the Latinx community. This public forum is free and open to everyone. Advanced registration is preferred!
Can't make it to this event? Check here for other Share Your Voice opportunities around the state: https://www.wisconsinhistory.org/Records/Article/CS15827
---
¡Comparta Su Voz! Madison Multicultural Session
Multicultural Engagement Series to Create a New Wisconsin History Museum
Para la Sociedad Histórica de Wisconsin es importante relacionarse con las comunidades multiculturales, para así integrar en el nuevo museo las auténticas perspectivas de las diversas poblaciones.
Comparta sus pensamientos e ideas con nosotros. Queremos crear un museo de historia moderno, vanguardista e inclusivo, que conecte y cuente las historias de todos los habitantes de Wisconsin.
Su participación inspirará conversaciones, creará conexiones en todo el estado y nos proporcionará observaciones invaluables para los conceptos de diseño del nuevo museo de historia de Wisconsin.
Agenda

6:00 pm - Bienvenidos y Introducción al nuevo proyecto del Museo
6:30 pm - Comparta sus comentarios sobre un nuevo Museo de historia en todo el Estado
*Las puertas abren 30 minutos antes, se servirá un refresco ligero.
Esta sesión es gratuita y abierta al público. Se prefiere reserva avanzada!
La sesión será en inglés, con alguna traducción disponible.
Location
Latino Chamber of Commerce
2881 Commerce Drive #E
Fitchburg, WI 53719
Accessibility Information
608-712-3522 info@lccmadison.org