Enlarge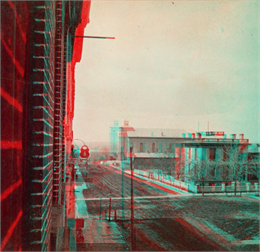 Intersection of Main and Carroll Streets
View of the intersection of Main and Carroll Streets in Madison, showing the home of Nathaniel Dean (where the Inn on the Park Hotel is now located), and St. Raphael Cathedral before the construction of its 100-foot tall steeple. The use of red/blue glasses is required to simulate a three dimensional effect. View the original source document: WHI 79628
This event has been SOLD OUT.
Madison has experienced its share of quirky characters, notorious murder trials, and rumors of creepy creatures. The downtown district has been at the center of these curiosities since the city was founded in 1856. The tour will take visitors from the Capitol Square to Monona Terrace and back again, exploring strange and mischievous tales about the neighborhoods in between.
This tour meets in front of the Wisconsin Historical Museum and covers approximately 1.4 miles on city sidewalks. Participants may be asked to stand for extended periods of time. Tour will take place rain or shine! Wear comfortable shoes and dress for the weather.
Register today! Drop-in spots are limited and not guaranteed.
Additional Walking Tour Dates
Can't make it to this tour? View additional dates and other walking tour offerings HERE.
Location
Wisconsin Historical Museum
Wisconsin Historical Museum, 30 N Carroll St
Madison, WI 53703
Location Information
Four floors of changing exhibit galleries, permanent exhibits and the museum store ― located on Madison's Capitol Square
Accessibility Information
The site is fully accessible to visitors requiring a wheelchair for mobility.