Enlarge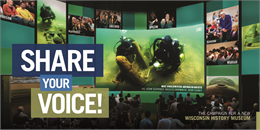 Share Your Voice Barron County!
Statewide Public Forum Series to Create a New Wisconsin History Museum
You are invited to share your thoughts and ideas with the Wisconsin Historical Society as we seek to create a modern, state-of-the-art history museum that connects and tells the story of all Wisconsinites.
Your participation will inspire conversations, create connections across the state, and provide invaluable feedback on design concepts for a new Wisconsin history museum. Now is the time to share your voice and be a part of this rare opportunity to celebrate and honor Wisconsin.
Agenda
6:00 pm - Welcome and introduction to the new museum project
6:30 pm - Share your feedback on a new statewide history museum
*Doors open 30 minutes early (light refreshments will be provided)
This public forum is free and open to everyone. Advanced registration is preferred!
This event is co-hosted by the Barron County Historical Society.
Can't make it to this event? Check here for other Share Your Voice opportunities around the state: https://www.wisconsinhistory.org/Records/Article/CS15827

Location
Cameron Senior Citizens
914 W Main St
Cameron, WI 54822
Accessibility Information
Tel: (715) 458-2765