Enlarge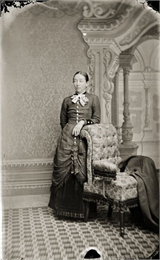 Francis "Frankie" Irene Douty
Full-length studio portrait of Francis "Frankie" Irene Douty leaning on a chair in front of a painted backdrop. She was the first wife of Henry Hamilton (H.H.) Bennett. View the original source document: WHI 68724
Experience a walking tour of historic downtown Wisconsin Dells through the eyes of Victorian Kilbourn (the early name for Wisconsin Dells)!
From the ghost that gave a saloon its name, to the wife of the man who made the Dells famous, this walking tour is bound to thrill and intrigue Dells residents and visitors alike!

Tour will begin and end at H.H. Bennett Studio. Light refreshments will be provided with a Q & A after the tour.
Location
H.H. Bennett Studio
H.H. Bennett Studio, 215 Broadway
Wisconsin Dells, WI 53965
Location Information
The historic 1875 studio of pioneer landscape photographer H.H. Bennett has been restored to its 1908 appearance. The studio and attached museum contain exhibits depicting the life and times of the man whose work brought tourists by the trainload to marvel at the beauty of the rugged Wisconsin Dells beginning in the late 19th century. Exhibits depict Bennett's prolific career, and high-end computer monitors reveal magnificent 3-D panoramas he captured on stereographic cameras he built by hand.
Accessibility Information
The site is fully accessible to visitors requiring a wheelchair for mobility.