Enlarge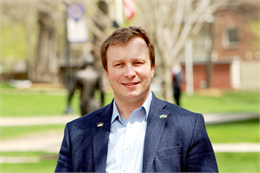 Associate Professor of Social Sciences at Ellsworth Community College, Iowa, Jörg Rochlitzer
Associate Professor of Social Sciences at Ellsworth Community College, Iowa, Jörg Rochlitzer will discuss early photojournalism and how photography captured the reality of war for the first time extensively in America.
This event is part of the George H. Houghton Speaker Series. The next event in the series will be taking place on October 12. Learn more here!
Location
H.H. Bennett Studio
H.H. Bennett Studio, 215 Broadway
Wisconsin Dells, WI 53965
Location Information
The historic 1875 studio of pioneer landscape photographer H.H. Bennett has been restored to its 1908 appearance. The studio and attached museum contain exhibits depicting the life and times of the man whose work brought tourists by the trainload to marvel at the beauty of the rugged Wisconsin Dells beginning in the late 19th century. Exhibits depict Bennett's prolific career, and high-end computer monitors reveal magnificent 3-D panoramas he captured on stereographic cameras he built by hand.
Accessibility Information
The site is fully accessible to visitors requiring a wheelchair for mobility.