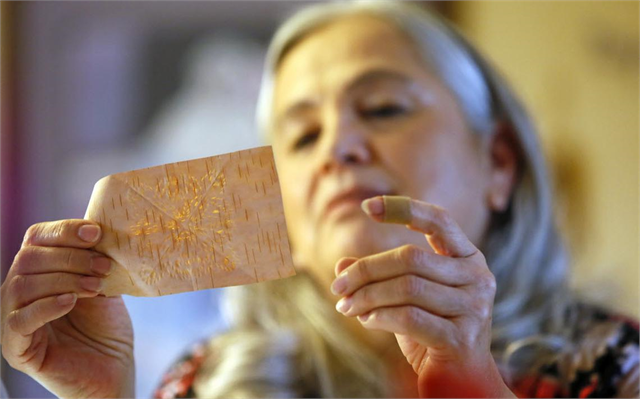 Come meet one of the artists whose work is featured in this season's special exhibit
WIIGWAAZII: THE EVOLVING TRADITIONS OF BIRCH
"I see the design through my eye teeth," said Denise Lajimodiere, Turtle Mountain Band of Ojibwe.
"I keep my eyes closed when I work because I see the design in the darkness," said Lajimodiere of her work in birch bark biting or mazinibakajige, which means "marks upon the bark."
She carefully separated the layers of bark, almost holding her breath as she peeled the delicate onion-skin-like layers so they don't tear. She folded a layer of bark into a triangle and began to bite a design with her eyeteeth. Biting quickly, sounding a chipmunk chewing through wood, she creates elaborate flowers, dragonflies and turtles.
She held the finished work up to a lamp so the design could shine through. Lajimodiere, an assistant professor at North Dakota State University School of Education as well as a poet, sells her designs as earrings, wall hangings and other forms.
Birch bark biting was a pre-contact method of creating designs for beading or quillwork according to Lajimodiere. "Mazinibakajige died out in my tribe until I began doing it about eight years ago," she said.
"It's very healing and requires a great deal of patience." according to Lajimodiere. The bark is harvested in the spring and does no harm to the tree. "The tree heals itself right back up."
(From article by Mary Annette Pember, Indian Country Today, March 4, 2016)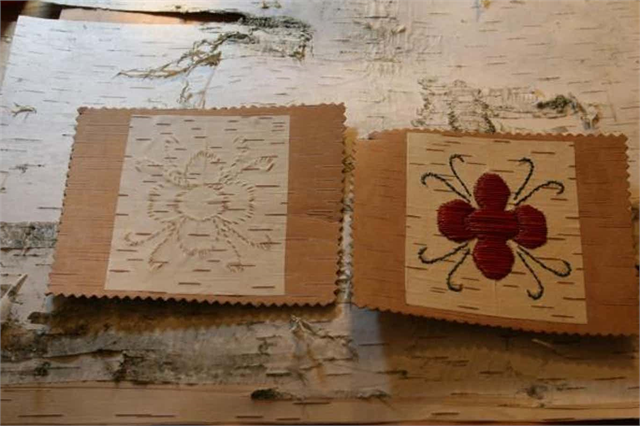 Dr
. Lajimodiere,
assistant professor at North Dakota State University School of Education
, is a traditional jingle dress dancer, current board member (and past president) of the National Native American Boarding School Healing Coalition and author of three books of poetry ("Dragonfly Dance," "Thunderbird," and "Bitter Tears").
Location
Madeline Island Museum
Madeline Island Museum, 226 Colonel Woods Ave
La Pointe, WI 54850-0009
Location Information
The museum, composed of three historic island structures and the modern Capser Center, contains exhibits detailing Wisconsin history from 17th-century exploration and the era of the fur trade to the arrival of summer tourists, known as cottagers, in the early 20th century.
Accessibility Information
Reasonable accommodations will be made for individuals requiring wheelchairs for mobility. Call ahead to make arrangements.