Enlarge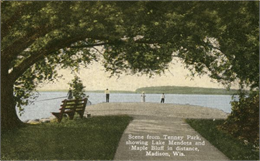 Tenney Park
A scenic view of Tenney Park, showing people fishing in Lake Mendota and Maple Bluff in the distance. View the original source document: WHI 51732
What do swimming, sewage, and sea serpents have in common? If Madison's early settlers loved the city's natural beauty, why did they dump sewage in the lakes? The four lakes have been central to Madison's identity since the beginning, attracting settlement with their beauty and resources. This tour will use Lake Mendota, the Yahara River and Tenney Park to explore how Madison's waterways have impacted the history of the city and those living here. We will tell stories about how the lakes have affected everything from boating and beer to myths and monsters.
This tour meets by the Tenney Park Lock and covers approximately 1.25 miles on city sidewalks and paths. Participants may be asked to stand for extended periods of time. Tour will take place rain or shine! Wear comfortable shoes and dress for the weather.
Register today! Drop-in spots are limited and not guaranteed.
Location
Tenney Park Lock
1500 Sherman Avenue
Madison, WI 53703