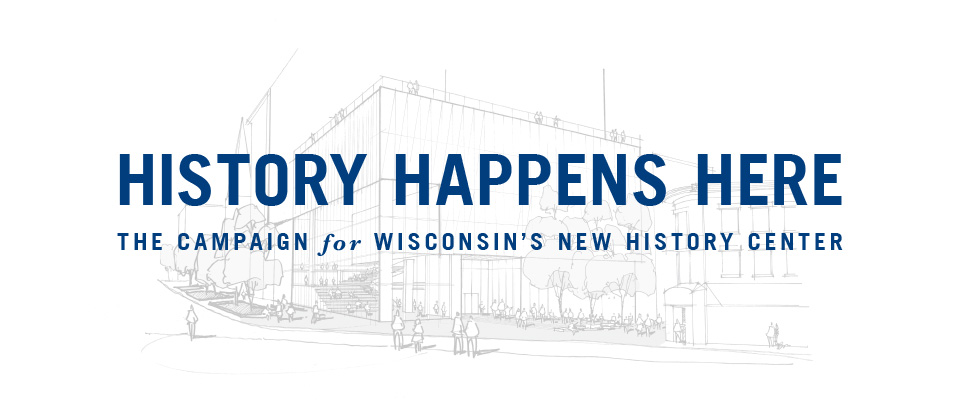 The Time Has Come For A
New


Wisconsin History Center

The next chapter of our state's history is being written, and the Wisconsin Historical Society is preparing to deliver an unforgettable, modern history center — one that will transcend the traditional museum experience and transform how people experience and share history.

The new history center will serve as a hub for inspiration and exploration where people and communities connect to one another, across time, through our shared American experiences.

Your support will help deliver a world-class experience that will make Wisconsin and North American history accessible like nothing that exists today.
History Center Vision
Since 1846,the Wisconsin Historical Society has been Wisconsin's place for history and one of the world's most respected historical institutions. Limitations and the deteriorating condition of our former museum prevented us from properly sharing and displaying our state's stories and world-renowned collections. The idea of a new history museum has existed for nearly two decades with bipartisan support and planning by Govs. Tommy Thompson, Jim Doyle, Scott Walker and Tony Evers.
Now, the vision is becoming a reality. We have assembled an industry-leading design team — including renowned exhibit designers Ralph Appelbaum Associates, international engineering and planning firm SmithGroup, and the award-winning Continuum Architects + Planners — that is hard at work creating an inspiring and dynamic history center for all of Wisconsin to take pride in.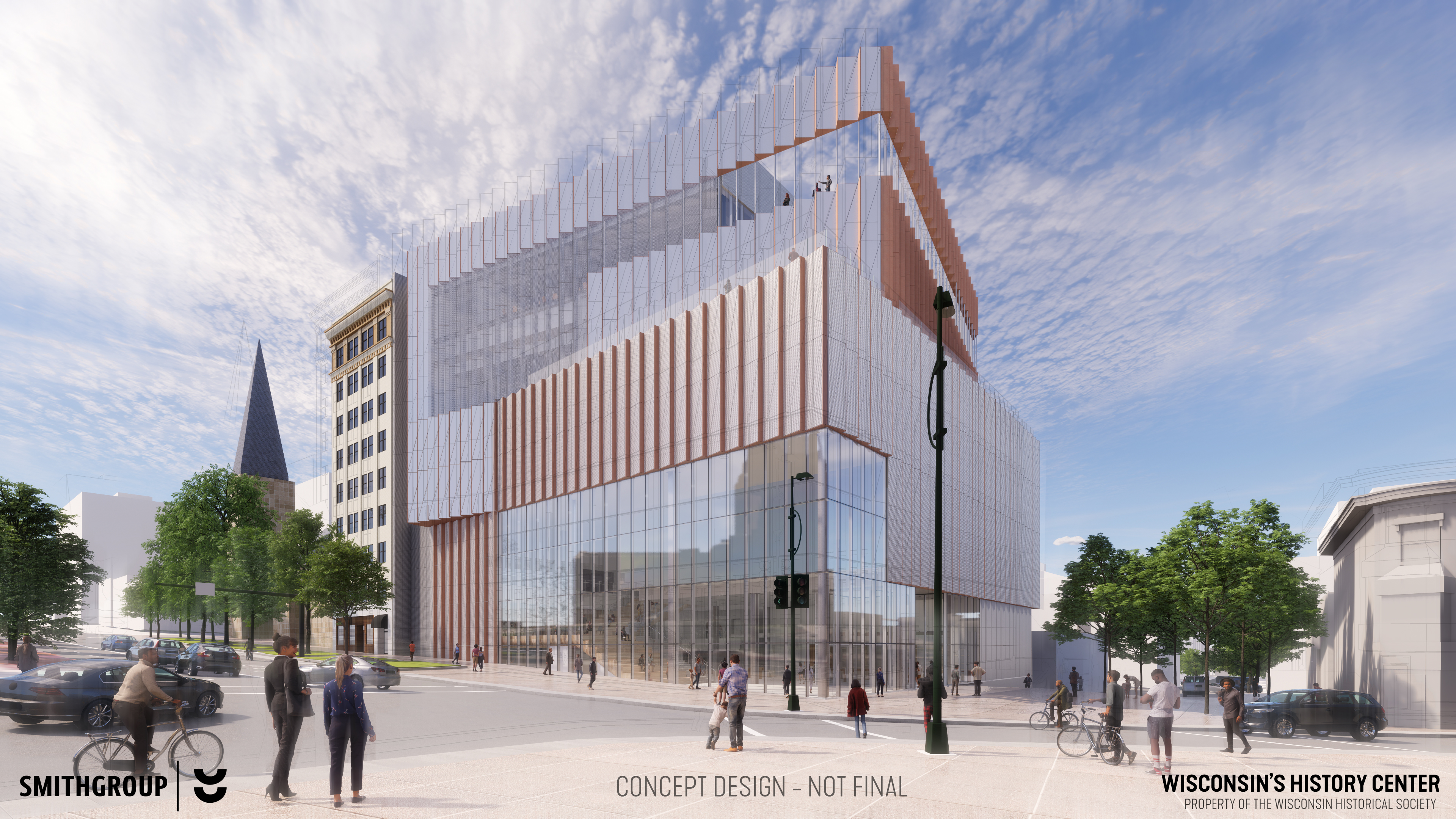 This preliminary rendering illustrates the architectural direction of the new history center building. The rotated building form looks beyond Madison to physically and symbolically connect with all of Wisconsin.
Designed to be a welcoming beacon of inspiration and exploration, the new center set on Wisconsin's Capitol Square in Madison will reflect a modern approach to sharing history. The five story building with stacked terraces will offer unforgettable views in all directions and more than double the exhibition space of the current museum, welcoming 200,000 guests annually and doubling the number of students served to 60,000.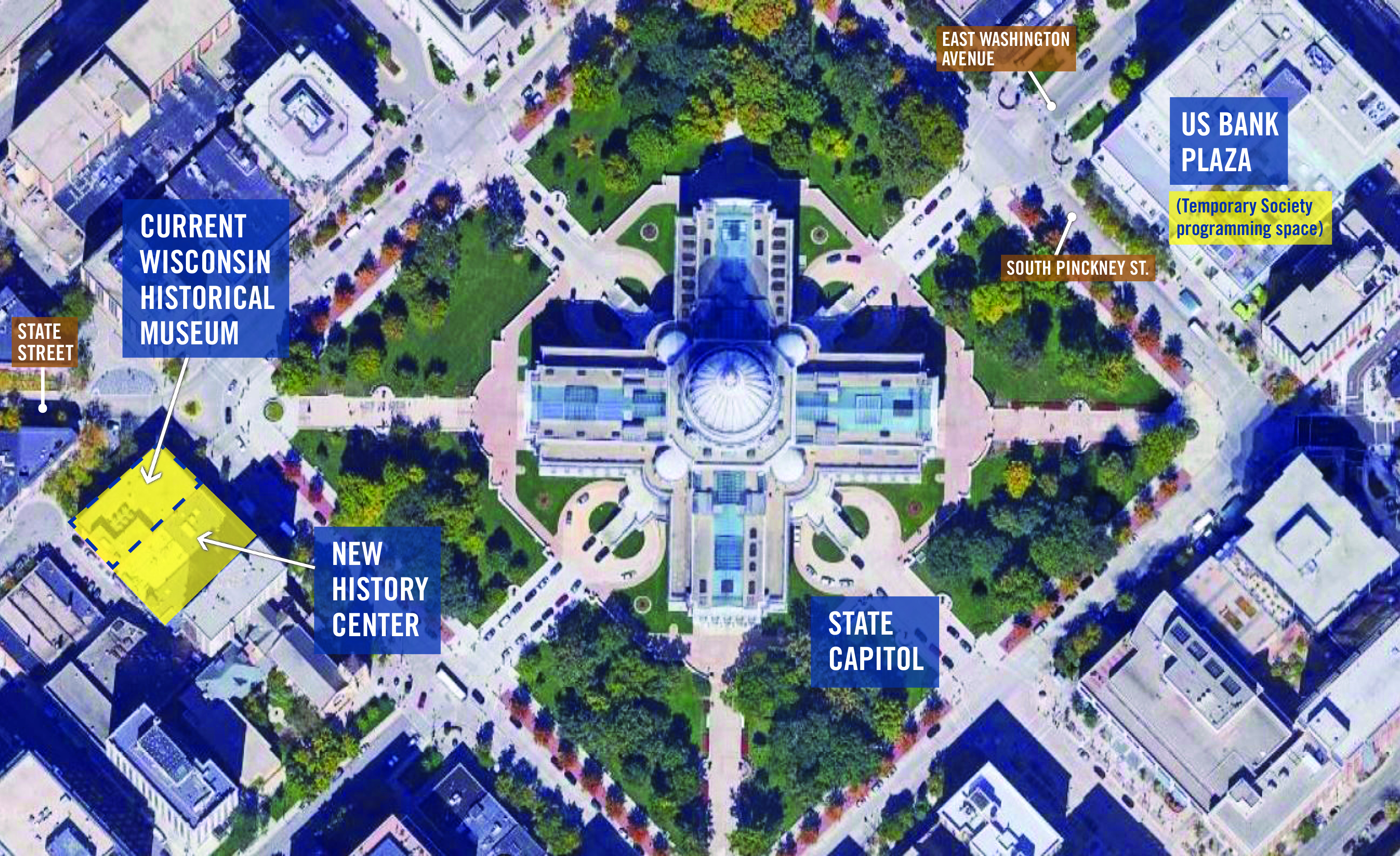 This map shows the site of the former Wisconsin Historical Museum on Capitol Square and highlights the area for the new history center as well as US Bank Plaza on the opposite side of the Square. With the museum now closed, the Society will host public and school group programming inside US Bank Plaza during the design and construction of the new history center.
Construction of the new history center is scheduled to begin in 2024 and expected to take just over two years to complete. To date, the Society has secured $70 million in State support and $39 million in private gifts. In February 2023, Gov. Evers recommended additional State support of $42 million to help offset increases in construction costs. An additional $20 million in private funds is needed to complete the project.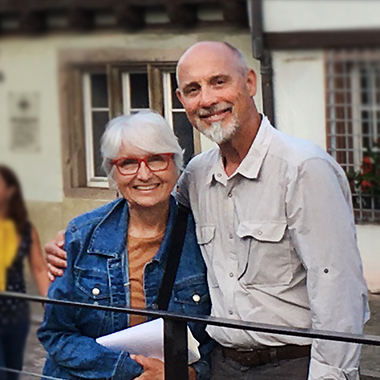 "We hope our gift provides momentum and inspires others to invest in such a worthy project. This museum will provide Wisconsinites, no matter where they are living today, with a world-class facility to honor the state's historic past and use that knowledge and experience to build a better future."
— John & Sherry Stilin, Redmond, Wash.
Key Milestones
Phase 1
Project Formation
Storyline Development & Exhibit Concept
"Share Your Voice" Statewide Engagement Series

Architectural & Exhibit Design
Statewide Community Engagement Series

Phase 3: 2024-2026
Construction
Statewide Community Engagement Series
Stay
Informed

.
Get

Involved

.
2
Follow Along on social media. Come for a behind-the-scenes look at the project and stay for the fun facts and diverse stories of Wisconsin's history! Catch us on Facebook, Instagram, LinkedIn and Twitter.
Unforgettable

Doesn't Just Happen

Like us, you believe that history matters. That people appreciate history through the telling of good stories, and that our past inspires us. You know that history brings context and meaning to our lives, informs our decisions, and is critical to our future.

A new history center is our biggest undertaking ever. To make it a reality, we need the support of bold, visionary, engaged people who believe in our state. We're counting on the support of people who understand the value of investing in transformational projects to benefit our past, present and future. To learn more about how you can help bring this project to life, please contact the Wisconsin Historical Foundation's Development Team.

Julie Lussier

Executive Director

Kristin Borst

Development Director

Joe Kollar

Development Officer
Donor Stories
The Wisconsin Historical Foundation is deeply grateful to the early leaders in the campaign. Learn more about some of the people and businesses behind this project who are committed to bringing a new history center to Wisconsin.
Learn about those supporting the project
The Campaign for a new
Wisconsin History Center