Member Appreciation Month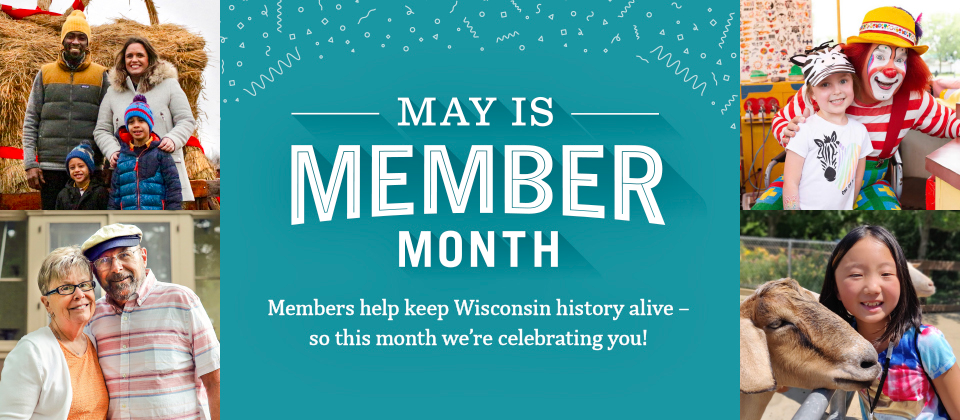 This month we're celebrating you!
Thank you for making it possible for us to find new ways to collect, preserve, and share the stories of Wisconsin! As a way to celebrate our wonderful members, we've put together this special member month page, where you can find online activities, stories, and chances to win prizes throughout the month. We hope you enjoy your member month benefits, and that you take a moment to feel proud of what you have helped accomplish!
A Message from our Staff – Thank You!
Thank you, members, for your endless support! You make what we do possible, so thank you from the bottom of our hearts!
Member discounts
During the month of May, save big on gift memberships and the online store!
Find everything from Mother's Day gifts, games for the family, Wisconsin themed blankets, and more on our online store! We have a wide array of products including apparel and accessories, home décor, toys and games, and books for all to enjoy! Use your membership ID during checkout to get 20% off your purchase this month.
This May, give the gift of membership to a loved one! Share a subscription to the Wisconsin Magazine of History with a friend or neighbor! As a member, you save 40% off all gift memberships for the month of May.
Enter To Win Big
As a way to say thank you for your support, we're giving away BIG prizes!
Quiz Corner
Family fun for everyone! Test your knowledge with some quirky quizzes and word searches exploring different parts of the Wisconsin Historical Society. Stay entertained – and learn something new – with these fun activities about maritime archeology, our museums and historic sites, and our fascinating collections!