Preserve Your Homes and Properties
Property Record Search
Search the most up-to-date version of the National or State Register of Historic Places and/or the Society's Architecture and History Inventory.
Or browse all properties
Local History and Historic Preservation Conference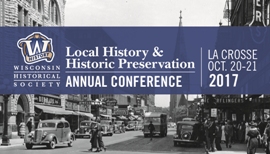 Learn the steps to follow to get a letter from the State Historic Preservation Officer, also known as SHPO.
Have Questions?
Contact Chip Brown by phone at 608-264-6508 or by email:
Preservation Professionals
Tax Credits and Funding
If you are planning work on a historic building, you may be eligible for a tax credit.
Browse over 40 programs offering funding for projects that preserve Wisconsin's historic places.
Education
Archaeology Programs and Services

The Wisconsin Historical Society has several programs that serve to protect and interpret Wisconsin's archaeological resources.
SEE MORE

Learn about the state and federal laws that protect burial sites in Wisconsin, including Native American mounds.

Have Questions?

Contact Kim Cook by phone at 608-264-6493 or by email:

`