In Memoriam - Dr. James Skibo
In Memoriam - Dr. James Skibo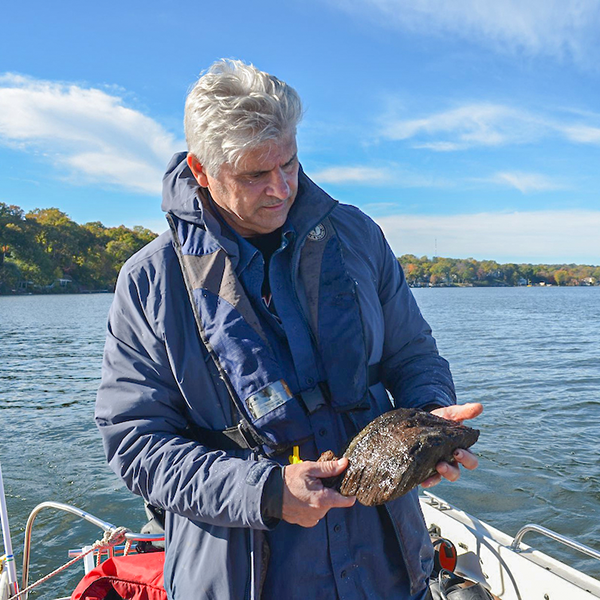 We are mourning the loss of our incredible colleague and Wisconsin's State Archaeologist, Dr. James Skibo, or as we knew him, Jim.
Jim passed away on April 14, 2023, after being recovered from Lake Mendota while on a routine work-up dive preparing for the maritime archaeology season. Jim was a certified diver and qualified for the depth of the dive as well as the equipment being used.
Jim is highly regarded for his archaeological work in the Great Lakes region and beyond, and we were honored to have him join the Wisconsin Historical Society in July of 2021. In this role, he oversaw the state's 36,000 archaeological sites and made great contributions to our mission, to our team and to advancing archaeological research in our state. Notably, his department worked in coordination with Wisconsin's Native Nations on the historic recovery of two canoes – one 1,200 years old (800 A.D.) and the second 3,000 years old (1,000 B.C) – recovered in 2021 and 2022, respectively.
Jim was a champion, leader and mentor for his team, yet always eager to learn from those around him. He was looking forward to getting back in the water with his colleagues this spring to further explore the site of the historic canoe recoveries, as he knew there are many stories yet to be shared.
Jim's passion and enthusiasm reverberated through the halls of our organization and throughout the state. An explorer at heart, Jim traveled Wisconsin on a mission to democratize archaeology, and he loved to tell the stories of the past through the lens of the archaeological record left behind. He truly was the "People's Archaeologist," as he often referred to himself. His passion for the field and for the importance of uncovering, preserving and sharing history was inspirational to us all and he will be deeply missed by so many.
Prior to joining the Society, Jim was named emeritus distinguished professor of anthropology and served as department chair at Illinois State University, where he worked for 27 years. He authored and edited 11 books and reviewed dozens of peer articles on pottery, archaeological theory, and the archaeology of the Great Lakes. He also co-edited the Journal of Archaeological Method and Theory for 17 years.
Jim valued his time spent working alongside William A. Longacre on the Kalinga Ethnoarchaeological Project, one of the longest-running ethnoarchaeological projects ever undertaken with research focused on pottery producers in the northern Luzon region of the Philippines. He also directed the Grand Island Archaeological Research Program since 2000 and in 2012 was presented with the Excellence in Archaeological Analysis award by the Society for American Archaeology.
We are keeping Jim's wife, Becky, and their children, Matt and Sadie, in our hearts during this incredibly difficult time. For those looking for a way to honor Jim, his family suggests giving back to the Earth that he loved and learned from.
Please join us in celebrating the life and lasting legacy of Dr. James Skibo, the People's Archaeologist.