Wisconsin Center for Film and Theater Research (WCFTR)
Search the Feature Film Database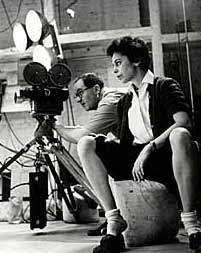 Shirley Clarke, 1955
Director Shirley Clarke on the set of "Bullfight." GSA Name File, Copy neg# 4767(mp)
The Wisconsin Center for Film and Theater Research (WCFTR) is one of the world's major archives of research materials related to the entertainment industry. Collection strengths include records of the American film industry from 1930–1960, American popular theater in the 1940s–1950s and American television from the 1940s–1970s.
Materials preserved include:
Historical records and personal papers
Twenty thousand motion pictures, television shows, and videotapes
Two million still photographs and promotional graphics
Several thousand sound recordings
Search Online
The Feature Film Database search box above provides online title access to all feature-length films held by the Wisconsin Center for Film and Theater Research.
Please note: Documentaries, cartoons and short subjects can be accessed by title using the card catalogs, printed lists, indexes and other manual finding aids available at the Center.
Viewing Films
Access to films and videotapes is coordinated through the WHS Archives Research Room and takes place on the 4th floor of the Wisconsin Historical Society building at the WCFTR Film Archive. WCFTR collections can be viewed by anyone working on a specific research project. You do not have to be affiliated with the University of Wisconsin, the Wisconsin Historical Society or another academic institution. However, we cannot accommodate requests for viewing unrelated to research.
The collection is available for on-site research viewing only and does not circulate.
All onsite access services are provided at no charge.
We have Steenbeck flatbed viewing machines for 16mm and 35mm film and videotape players for ¾" and ½" videocassettes. All viewing is done by appointment between 1:00 p.m. and 5:00 p.m., Monday through Friday. For more information, call 608-264-6466, or email askmovies@wisconsinhistory.org.
Requests to retrieve films for viewing and appointments for use of the viewing room must be made at least one week in advance. Please note that due to an item's condition and format, many collection holdings can take up to 2-3 weeks or much longer to prepare for viewing. For this reason it is advised to submit all research requests well in advance of any proposed visit. Some items listed in the catalog may not be available due to condition and/or format.
To make a reservation by phone, please call 608-264-6466 or 608-264-6460 during reference hours.
All films should be reserved by call number. The call number for each title is noted in the call number field of the Library Catalog entry.
With the exception of certain films which may be shown to classes on the UW-Madison campus, films do not circulate.
Plan Your Visit
Researchers are encouraged to use the WCFTR collections of moving images, manuscripts and visual materials. Materials are located in Madison at the Wisconsin Historical Society. For more information about accessing the collections, photocopying services and reference assistance, please contact us by phone at 608-264-6466 or by email:
askmovies@wisconsinhistory.org
Learn More