General Information
Event Rentals
Wisconsin Historical Society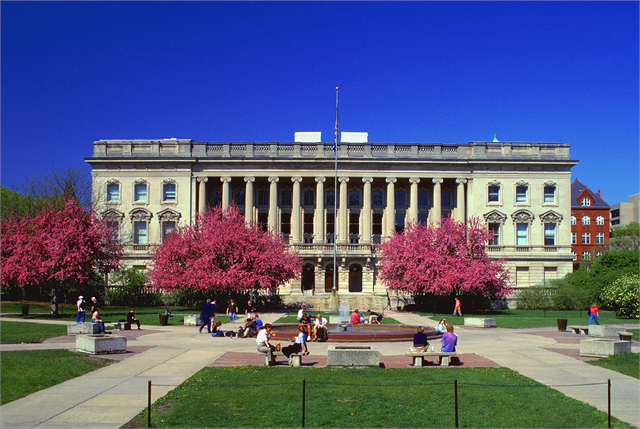 The Wisconsin Historical Society invites you to host your event at our Headquarters location.
Centrally located in the heart of downtown Madison on the University of Wisconsin campus, the historic Headquarters building offers its unique and elegant spaces for the community to provide historical, educational, and social events that support the values of the Historical Society and benefit the Madison community.
Facility Capacities, Fees, and Floor Plans
Photo Gallery
Enlarge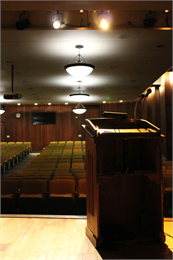 See images of the Headquarters Auditorium.
Host your next presentation, meeting, ceremony, discussion, panel, or performance in the Wisconsin Historical Society Headquarters Auditorium.
The WHS Auditorium seats up to 300 guests. We offer basic sound, lighting, and presentation equipment, but are happy to accommodate additional equipment for events with more advanced technical needs.
Enlarge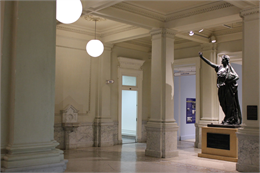 See images of the Headquarters Lobby.

The WHS Lobby is a beautiful space for all your social needs – celebrations, receptions, meetings and more.
The Lobby accommodates up to 300 standing guests and 100 seated guests.
Featuring catering and beverage services from (preferred vendor). More details available below.
Enlarge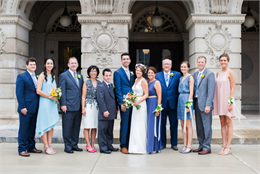 See images of weddings and past events at the Headquarters.
Images by Melissa Grace Photography @ www.melissagracegallery.com
Rental Information


All events must be in accordance with Society Policies & Procedures. The Wisconsin Historical Society Headquarters is ADA Accessible.
WHS Preferred Caterers


Blue Plate Catering
UW Club
Fresh Market
Food Fight
Choose from three distinct locations — each with unique character and charm.
Clausing Barn Loft
Enjoy the magic of a beautiful barn wedding reception for up to 175 in our unique 19th-century octagon-shaped barn with a huge, vaulted ceiling. Modern restrooms with full bar available and limited kitchen access for caterers. Wheelchair accessible. Available May through early October.
Clausing Barn Garden Patio
The perfect spot for a gorgeous after-ceremony cocktail reception, with seating for 80. Available after 3 pm. Patio bar also available.
Visitor Green Available for scenic outdoor wedding ceremonies Fridays, Saturdays and Sundays between 3 and 6 pm. Located just outside the Clausing Barn Loft.
Norwegian Picnic Pavilion
Sheltered picnic pavilion on the south end of the museum seats up to 400. Requires museum admission for guests (group rates available). Available during regular museum hours.
Weddings
Make your wedding memorable and historic on the lawn of Villa Louis. Weddings can be booked May through October unless a site-sponsored special event or other pre-schedule activity is already planned.
Other Private Events
Let us help you plan a memborable event on the Villa Louis lawn. Our grounds are available for family reunions, corporate picnics and many other special events. For more information or to schedule an appointment, please contact Samantha Matern during regular business hours at (608) 326-2721.
Weddings
Choose from one of our multiple locations for ceremonies and a number of reception spaces. We offer many options including two large concourses, our Walnut Room, a large Carriage Pavillion, and spaces for tented reception.
Private Rentals
Let us help you plan a memborable event! Our grounds are available for family reunions, corporate picnics and many other special events. Let us help you plan an unforgettable day! For further information, contact Angela Siebenaler at (920) 526-3271 or contact us by email.