Historical Essay
Marinette [origin of place name]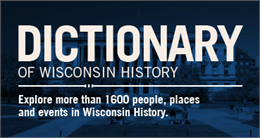 Marinette was christened Marguerite Chevallier but later through some quirk came to be known by the then popular "nickname" of "Marinette," the diminutive for Marie Antoinette, Queen of France, whose tragic death at the time of the French Revolution, caused much excitement among the French settlers in this territory. The French and Indians on the river when pronouncing "Marie Antoinette" would shorten the name by pronouncing it "Marinette." Holding our Marguerite in high esteem they resorted to calling her "Queen Marinette," queen of their adopted country, thus the origin of the name.Marinette took it title from the village which was named for Marinette Chevalier (1793-1865), a French Chippewa metis, wife of John B. Jacobs, and later of William Farnsworth; the last-named settled on this site in 1822. There had previously been here a trading-post of the American Fur Company, and it continued as a trade center for many years, largely unded the direction of Marinette, who had much business ability. The town was platted by her son, John B. Jacobs. The name is an abbreviation of Marie AntoinetteMarinette-contraction of Marie Antoinette, name of semi-civilized Indian chief.
Learn More
Dictionary of Wisconsin History
Explore more than 1,600 people, places and events in Wisconsin history.
[Source: Article on Queen Marinette by Fred C. Burke, in Marinette Eagle Star, Dec 7, 1946.Hist. No. Wis. p. 578Milwaukee Journal, February 21st, 1932Card file at the WHS Library reference desk]