Historical Essay
Mazomanie
Origin of Mazomanie, Wisconsin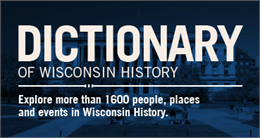 Named for a Minnesota Wahpeton Sioux Chief which is usually Anglicized as "Maz-zo-ma-nee." The name means "Walking Iron." It was applied to the town when the Milwaukee and Mississippi Railroad reached the site in 1855. Edward Brodhead, superintendant and operating engineer of the railroad, supplied the name (which he thought meant "Iron Horse"), perhaps at the suggestion of M&M Railroad board member Hercules L. Dousman, who had personal and professional ties among the Wisconsin tribes. Previous etymologies deriving it from the Ojibwe word for mooseberries and other sources have been discredited.
Learn More
See more images, essays, newspapers and records about Mazomanie, Wisconsin.

Dictionary of Wisconsin History
Explore more than 1,600 people, places and events in Wisconsin history.
[Source: Dodsworth, Robert. "The Naming of Mazomanie." Mazomanie Historical Society.]