Historical Essay
Monona
Origin of Monona, Wisconsin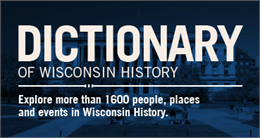 "Wild rice" (Potawami) In 1849, Frank Hudson, a surveyor, suggested third lake he called Monona, said to signify "beautiful." In 1855 on February 14 th legislature passed a bill legalizing the name. "The word Monona I have sought in a good many Indian vocabularies without success, yet I trust Mr. Hudson had reason to say that its import is beautiful" (James Davie Butler) "Tchee-ha-bo-kee-xa(or ha)-kay-ta-la" Ho-Chunk word meaning "tepee lake," obtained by Oliver Lemere from Henry White, an Indian whose father once resided in the vicinity of Madison.
Learn More
See more images, essays, newspapers and records about Mohawk, Wisconsin.

Dictionary of Wisconsin History
Explore more than 1,600 people, places and events in Wisconsin history.
[Source: A. Skinner in Milwaukee Public Museum Bulletin. v. 6 p. 399James A. Butler in Wisconsin History Collections, v. 10, p.67\See article on Lake Monona by C.E. Brown in Wisconsin Archaeologist N.S. vol 1., p. 122]