Historical Essay
Muir, John 1838-1914
Conservationist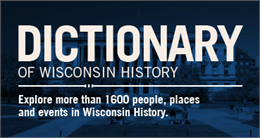 Enlarge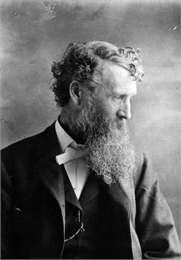 John Muir, 1899
Waist-up studio portrait of naturalist, conservationist, and writer John Muir. View the original source document: WHI 3948
b. Dunbar, Scotland, 1838
d. Los Angeles, California, December, 1914
John Muir was an inventor, naturalist, conservationist and author.
Youth
He migrated with his family to Wisconsin in 1849. They settled on a farm at Fountain Lake, near Montello. He spent his youth working on his father's farm. He described the experience in the short story "The Story of My Boyhood and Youth" in 1913.
Muir displayed a talent for invention in his youth. For several years, he toyed with the idea of a career in mechanical arts. From 1860 to 1863, Muir studied intermittently at the University of Wisconsin, where his primary interest was in botany and geology. To supplement his income he taught science in the area schools. He loved the solitude of the natural world, and took extensive trips through the wilderness. In 1863, he left Wisconsin and hiked through the surrounding states and Canada.
Injury
In 1867, he moved to Indianapolis, Indiana, where he worked in a carriage-wheel factory. But an injury to his eye ended any hopes of working with machines. Late in 1867, he set out on a walking trek through the southern states. During the trip, he kept a journal, which was posthumously edited and published as "A Thousand Mile Walk to the Gulf" in 1916. In 1868, he moved to Yosemite Valley, California, where he worked sheepherding and guiding.
Legacy
Muir devoted many years of study and exploration to the area. He was eventually recognized as one of the leading naturalists in the nation. Much of the credit for the establishment of Yosemite National Park and Sequoia National Park is given to Muir. He was the first to explain the glacial origin of the valley at Yosemite. As a conservationist and leader in the forest preserve movement, Muir advocated preserving the wilderness in its natural state. He later traveled in South America, Africa and in Alaska, where Muir Glacier is named in his honor. His book "Travels in Alaska" was published posthumously in 1915.
Muir advocated for preserving our country's natural resources from exploitation and despoliation. He was the recipient of honorary degrees from Harvard, Wisconsin, Yale and California, and the author of numerous books and articles.
Learn More
See more images, essays, newspapers and records about John Muir.
Dictionary of Wisconsin History
Explore more than 1,600 people, places and events in Wisconsin history.
[Source: Dictionary of Wisconsin biography] Dict. Amer. Biog.; L. M. Wolfe, Son of the Wilderness (New York, 1945); W. F. Bade, Life . . . J. Muir (2 vols., Boston, 1924); WPA MS; J. Muir Papers.