Historical Essay
Okauchee
Origin of Okauchee, Wisconsin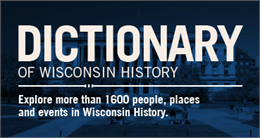 Said to be the only village in Wisconsin named for the Indians which has retained the name originally given. Means "the chief is come." Probably meaning pipe-stem (Pottawatomi). Okatci "something small."
Learn More
See more images, essays, newspapers and records about Okauchee, Wisconsin.

Dictionary of Wisconsin History
Explore more than 1,600 people, places and events in Wisconsin history.
[Source: From the Oconomoc Enterprise, Aug. 3rd, 1961.Card file at the WHS library reference deskAlanson Skinner, in Milwaukee Public Museum Bulletin, v. 6 p. 399]