Historical Essay
Oneida
Origin of Oneida, Wisconsin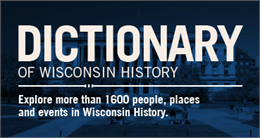 The meaning of the word is "for the Oneida Nation." Tradition tells us that the Indian forefathers in New York State while out hunting and fishing had a red stone given to them by Tammy which was taken from a cleft in the granite rock. From this stone they took the name Oneida which means "the people of the stone."Oneida is named for a tribe of New York Indians, a branch of the Iroquois, who removed to Wisconsin early in the nineteenth century. The name was said to signify "granite people."
Learn More
See more images, essays, newspapers and records about Oneida, Wisconsin.

Dictionary of Wisconsin History
Explore more than 1,600 people, places and events in Wisconsin history.
[Source: p. 35 of Johnstone's A Story of Pittsfield and Suamico.Gannett, Place Names, p. 196]