Historical Essay
Ozaukee County
Origin of Ozaukee County, Wisconsin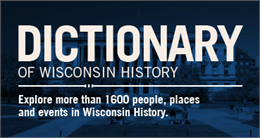 Ozaukee is the Chippewa form of the tribal name of the Sauk. The word is commonly asserted to mean "people living at the mouth of a river." Others interpret it as signifying "people of yellow earth."In Chippewa, this means Osagig, Sacs, an Indian tribe. Ozaukee county and Sauk county, both corrupt of ozagig, meaning "people living at a river mouth"o-aug-egg, meaning "mouth of the river people."
Learn More
See more images, essays, newspapers and records about Ozaukee County, Wisconsin.

Dictionary of Wisconsin History
Explore more than 1,600 people, places and events in Wisconsin history.
[Source: Legler, Wisconsin Place Names, p. 32.Gannett, Place Names, p. 200Card file at the WHS library reference desk]