Historical Essay
Peckham, Elizabeth Maria Gifford 1854 - 1940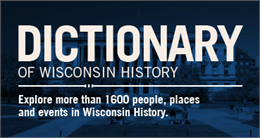 suffragist, scientist, and librarian; born in Milwaukee, the daughter of Charles Gifford, an early landscape architect in the city. She graduated from Vassar College in 1876 with a degree in science. She was one of the first librarians of the Milwaukee Public Library when it was established in 1878.
 
Peckham was active in the Wisconsin women's suffrage movement.  For many years she was a member of the board of the National Woman Suffrage Association. She was active in the Wisconsin women's suffrage campaign, frequently testifying before the Wisconsin Legislature.
 
Elizabeth Gifford married George W. Peckham in 1880, and collaborated with him in research on spiders and wasps.  Together they published scores of scientific papers and books (some of which she illustrated), pioneering in the application of behavoir to the classification of insects.

Learn More
Dictionary of Wisconsin History
Explore more than 1,600 people, places and events in Wisconsin history.
[Source: Obituary, Milwaukee Journal, February 13, 1940; Dictionary of Wisconsin Biography, 1960]