Historical Essay
Sun Prairie [origin of place name]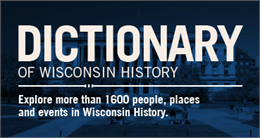 So called by A.A. Bird. In 1837, he and a company of pioneers after a nine days tramp through the rain from Milwaukee, came upon the borders of the prairie just as the sun came out, and therefore christened the spot Sun Prairie, and the village took its name from the prairie.
Learn More
Dictionary of Wisconsin History
Explore more than 1,600 people, places and events in Wisconsin history.
[Source: Dane County History, 1880.]