Historical Essay
White Crow, Ho-Chunk chief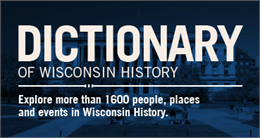 His Ho-Chunk name is generally given in printed sources as Kau-kish-ka-ka. White Crow was an important leader during the first third of the 19th century, especially during the Black Hawk War of 1832, when he played both sides off against each other to protect the interests of his people. According to historian Reuben G. Thwaites (1895), White Crow "had but one eye and something of a reputation as an orator. His village, which comprised about 1,200 persons housed in tepees covered with red-cedar bark, appears to have been situated about where is now the little village of Pheasant Branch [Middleton] at the west end of Lake Mendota, Dane County." View more information in historical newspaper articles.
View pictures related to Ho-Chunk Indians at Wisconsin Historical Images.
Learn More
Dictionary of Wisconsin History
Explore more than 1,600 people, places and events in Wisconsin history.
[Source: Wisconsin Historical Collections, 1895]