Historical Essay
Yawkey, Cyrus Carpenter (1862 - 1943)
Lumberman, Businessman and Paper Manufacturer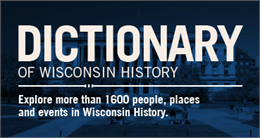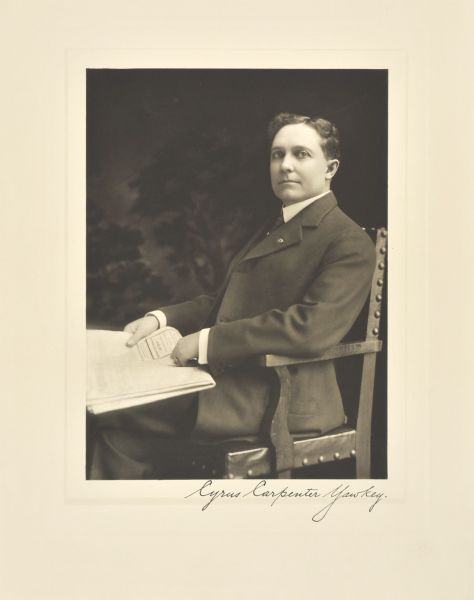 Three-quarter length seated studio portrait in front of a painted backdrop of Cyrus Carpenter Yawkey, Wausau manufacturer. He is sitting in a chair at a table and holds something in his hand.
View the original photo here:
WHI 62656
Early Life
Cyrus Carpenter Yawkey was a lumberman, businessman and paper manufacturer born in Chicago, Illinois. He graduated from Michigan Military Academy at Orchard Lake in 1881 and moved to Hazelhurst, Wisconsin in 1889 after working for several years in Michigan.
Career
There he helped to organize the Yawkey and Lee Lumber Co., which became the Yawkey Lumber Co. in 1893. Yawkey served as secretary-treasurer, general manager and president of this company. In 1899 he moved to Wausau, and in 1909 was one of the organizers and incorporators of the Marathon Paper Mills, serving as president of this firm from 1909 to 1938 and as a member of the board of directors until his death. He was also president of the Wisconsin Valley Electric Co., the Hazelhurst and Southeastern R.R. Co., and the Yawkey and Bissell Lumber Co., and was vice-president of the Wisconsin Box Co., the Wausau Paper Mills Co., and the American National Bank of Wausau, as well as serving in executive capacities with numerous other paper-making and business enterprises throughout Wisconsin and the Midwest.
Later Years
In later years Yawkey owned extensive business and timber interests in the South and West. During World War I, Yawkey served as colonel in the Wisconsin state guards. A Republican, he was state assemblyman from 1895 to 1896.
Learn More
See more images, essays, newspapers and records about Cyrus Carpenter Yawkey.
Dictionary of Wisconsin History
Explore more than 1,600 people, places and events in Wisconsin history.
[Source: Dictionary of Wisconsin biography]