Historical Essay
Youmans, Theodora Winton, 1863 - 1932
Editor and Women's Right Activist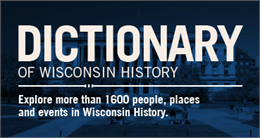 Theodora Winton was born in 1863, in Ashippun, Dodge County, Wisconsin. Theodora was exposed to political at a young age because her father ran a store, was postmaster and had his hand in politics. After graduating from Carroll College, she went to work for the Waukesha Daily Freeman were she met her husband, Henry Mott Youmans, the editor of the paper. The two married in 1889.
She was one of Wisconsin's first woman journalists.
Youmans was a leader in the women's suffrage movement, serving as press secretary for the Wisconsin Woman's Suffrage Association in 1912. After a referendum failure in 1913, Youmans became president of the organization and served as editor for 'The Woman Citizen', the magazine of the Suffrage Association. In 1919, the Wisconsin legislature ratified the federal amendment to the constitution guaranteeing women the right to vote. Youmans marched in the victory parade in New York City.
She supported many other causes as well, including serving twice as the Waukesha Municipal League president. In 1898 she was a member of the committee that arranged Wisconsin's semi-centennial celebration, and was later appointed to the board of managers for the Wisconsin World's Fair in 1903 by Governor La Follette. Later in life she continued to be politically active, serving as an elector in 1920 running unsuccessfully for state senator in 1924. She also chaired the citizenship department of the Wisconsin Federation of Women's Clubs and bequeathed to the Federation $5,000, the income from which was awarded to a Wisconsin woman who had made a 'notable contribution to good citizenship during the year.' Youman's died in 1932 at the age of 69.
Learn More
See more images, essays, newspapers and records about Henry Mott Youmans.
Dictionary of Wisconsin History
Explore more than 1,600 people, places and events in Wisconsin history.