General Information
Wisconsin's John Muir
A Traveling Display and Reading Program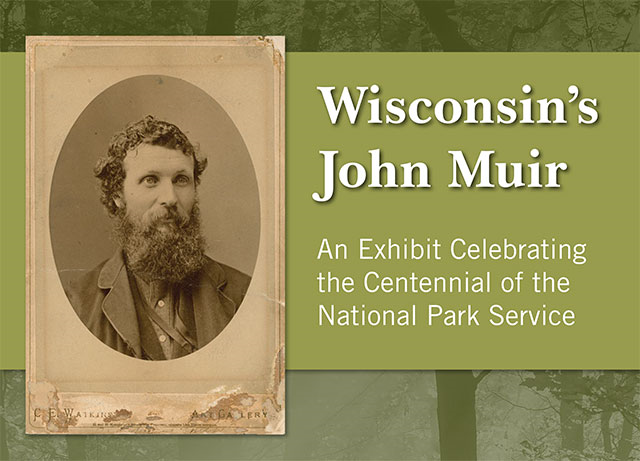 In 2017, the traveling display "Wisconsin's John Muir" will be hosted by University of Wisconsin-System libraries. Last year the Wisconsin Historical Society provided the free display to local public libraries and historical societies in 25 communities around the state.
Commemorating the centennial of the National Park Service, the traveling display explores Muir's youth in Wisconsin, his advocacy for national parks and his views on environmental issues such as logging, hunting and climate change. Its eight panels share facsimiles of images and manuscripts from the Society's library and archives alongside Muir quotes and interpretive texts.
The Muir display and reading program is funded by bequests from John A. Peters and the Kenyon and Mary Follett family.
Learn More
Download Muir's Books:
Free ebooks and audiobooks from The Internet Archive:
The Story of My Boyhood and Youth (1913)
A Thousand-Mile Walk to the Gulf (1916)
My First Summer in the Sierra (1911)
The Yosemite (1912)
The Mountains of California (1894)
Our National Parks (1901)
Steep Trails (1919)
Muir's other writings available free online:
Digital Public Library of America
Learn about Muir's Life
Biographical Resources from the Sierra Club
Historical Newspaper Articles about Muir in Wisconsin
See Muir's Manuscripts at the Wisconsin Historical Society
30 original manuscript letters of Muir, 1861-1914
A visit to Muir in his UW dorm room, ca. 1862
Muir's younger brother recalls their boyhood
View Photographs of Muir: