Classroom Material
Belle Case La Follette
Enlarge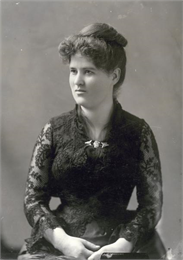 Belle Case La Follette
Formal studio portrait of Belle Case La Follette wearing a black lace dress. Taken around 1885, the year in which her husband, Robert M. La Follette, Sr., first went to Washington, D.C., as a Republican congressman. View the original source document: WHI 3841

Note: This is a grade-level appropriate biographical essay about a significant figure from Wisconsin's past.
No voting. No owning a house or land. No wearing pants (dresses only!). That's what life was like for women in the nineteenth century and before. Luckily, Wisconsin had many brave women and men who fought to change the rules for the better. One of these women was Belle Case La Follette.
Belle Case was born in Summit, Wisconsin, in 1859. Back then women didn't have the right to vote. Belle set out to change that. When the world said, "No, you can't," Belle said, "Yes, I can!"
Belle's grandmother, Lucetta, believed Belle deserved a good education. She helped Belle understand she could do anything she put her mind to. Belle was never late for school and missed class only when she had the measles. While most children didn't go to school past the age of twelve, Belle kept going. Belle started college when she was only sixteen. She wanted to make her family proud. Belle was a top student at UW–Madison. She met her future husband, Bob La Follette, while they were both students there.
Belle and Bob were very different people. Bob loved speaking in public. Belle loved writing. But they believed in many of the same progressive ideas. Together, they made a great team! Bob went into politics after they were married. Belle helped write many of Bob's best speeches. Bob called her the brainiest member of the family!
Bob and Belle started La Follette's Magazine in 1909. Belle wrote stories about modern life, women's rights, exercise, and clothing. She dressed how she wanted to and encouraged other women to do the same. Belle believed women should make decisions for themselves.
Belle also wanted more people to exercise. She encouraged exercise as part of a healthy lifestyle. Belle loved to run, and she was fast! An old story tells how Bob once challenged her to a footrace. Who won? Who knows? Bob never told.
Many people at that time thought women should stay home and raise families. But Belle believed women could have a career and raise a family, too. Belle had three children of her own and knew what she was talking about.
Belle believed women should have the right to vote. She gave more than seventy speeches on women's suffrage. Her greatest victory came in 1920 when women won the right to vote. That's when the 19th Amendment to the Constitution was ratified.
Belle also believed that African Americans deserved civil rights. She defended the rights of African Americans. And Belle believed world peace was a lot better than world war. As a pacifist, Belle believed that no wars were justified. She encouraged political leaders like her husband Bob (Senator Robert LaFollette) to vote against going to war.
Belle Case La Follette fought hard for the things she believed in. She died in 1931 after a lifetime of doing her part to make the world a better place.
---
Reading Level Correlations
Learn more about Belle Case La Follette in Belle and Bob: Parters in Politics from the Wisconsin Historical Society Press.
Learn more about women's suffrage.