General Information
National Historic Preservation Act 50th Anniversary Photo Contest
The Wisconsin State Historic Preservation Office is holding a photo contest to celebrate 50 years of the National Historic Preservation Act. This is a chance to show off your photography skills and celebrate the historic places in Wisconsin that are important to you. The top 50 finalists will have their photographs featured on the Wisconsin Historical Society's website to honor the historic places that matter to you.
Enlarge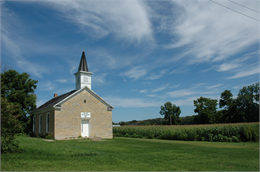 The Jenkynsville Primitive Methodist Church was built in 1861 in Lafayette County
View the property record: AHI 65291
Eligibility
The Contest is open to all Wisconsin Residents
The Photo must be taken of a historic place over 50 years old in Wisconsin. It does not have to be an officially designated historic site.
Persons under 18 may participate with a parent or guardian's permission
Both amateur and professional photographers can enter
Multiple entries are allowed, but only 1 photograph allowed per entry form
Entries must be submitted by October 9, 2016
By entering the contest, participants agree to the official contest rules.
What to Enter
Wisconsin is filled with thousands of historic places from prehistoric archaeological sites to 20th century architectural wonders. The historic places we work together to preserve provide a valuable connection to our state's rich past. What Wisconsin historic place is important to you? What role do historic places serve in your community and in our state? Your photo should capture and represent the importance and value of historic places in Wisconsin.
The subject should be a historic place in Wisconsin that is at least 50 years old including archaeological sites, historic buildings, historic landscapes, and historic structures. Most historic places are private property. Please respect the privacy and legal rights of property owners when photographing any property.
All photographs should accurately reflect the subject matter and the scene as it appeared. Photos that have been excessively digitally altered beyond standard optimization (removal of dust, cropping, reasonable adjustments to exposure, color and contrast, etc.) will be disqualified. Entries must be saved in jpeg format and should be sized to be between 2000 and 6000 pixels in the longest dimension. Please limit your images to a maximum file size of 5MB.
Photographs must have been taken within five (5) years before the date of entry. Entries may have originated in any format — including, but not limited to digital files, digital prints, color prints, or black and white prints, as long as they are submitted digitally through the online form. Mailed entries will not be accepted.
If your photo includes a person not in the public right of way, you are responsible for obtaining the necessary releases from the individuals depicted, and must provide copies to the Wisconsin Historical Society upon request.
Prizes
50 Finalists
Top 50 entries will be selected by the panel. The top 50 photos will be displayed on the Wisconsin Historical Society's website and at the Society's annual Local History and Historic Preservation Conference.
Top Five Adult Entries
The top five adult entries will be selected by the panel. Winners will be announced in October. Top five entries win:
Wisconsin Historical Society membership
Wisconsin Historical Society Press book
Archival print from the Wisconsin Historical Society Archives
Top Ten Student Entries
The top ten student entries (ages 18 and under) will be selected by the panel. Winners will be announced in October. The top ten student entries win:
Wisconsin Historical Society Student membership
Four guest passes to a Wisconsin Historical Society Historic Site
Wisconsin Historical Society Press book
The Wisconsin Historical Society reserves the right to substitute prizes at an equal or greater value.
Learn More
National Historic Preservation Act 50th Anniversary in Wisconsin
Have Questions?
Contact Amy Wyatt by phone at 608-264-6506 or by email below:
amy.wyatt@wisconsinhistory.org
Save
Save