General Information
Making Their Mark: Wisconsin's National Historic Landmarks
Celebrate 50 Years of the National Historic Preservation Act by Visiting One of These Landmarks
National Historic Landmarks are our country's most exceptional historic properties. Their stories reflect the breadth and depth of the American experience and capture the uniqueness of our communities by recognizing their most important historic treasures. Landmarks are conspicuous objects, known to many through either their remarkable appearance or their compelling stories. Our nation's historic landmarks include places where significant events occurred, where important Americans worked or lived, that represent the ideas that shaped the nation, that reveal our past, or that are outstanding examples of design or construction.
The National Historic Landmarks in Wisconsin reflect the diversity of people, places and events that together make our state unique. Landmarks shape our sense of place and sense of belonging. Wisconsin's most renowned prehistoric site is Aztalan, a temple mound and palisaded village site that was the northernmost location associated with the Mississippian culture between circa 1100 and 1300 A.D. The Oconto Site contains implements and remains of a copper working prehistoric people that are among the world's earliest metallurgical cultures.
Enlarge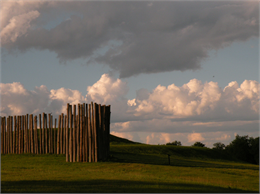 Azatalan
Native people who moved into Wisconsin from northern Illinois probably established Aztalan to expand their territory and open new areas for trade and possibly settlement.
Among the first Euro-Americans to arrive in the Midwest, were fur traders in the employ of John Jacob Astor's American Fur Company. Prairie Du Chien became one of Wisconsin's first cities, where the Astor Fur Warehouse and the Brisbois House bear witness to the early French and British occupation of the Midwest. The Second Fort Crawford Military Hospital, a reconstructed portion of a major upper Mississippian Federal fortification, symbolizes American control of the upper Midwest after the war of 1812. These events opened the area to more widespread settlement, leading to Wisconsin statehood in 1848.
Our state's distinctive character is partly the result of the diversity of ethnic immigrants drawn to Wisconsin by promises of jobs and cheap land. The Namur Historic District tells the story of Belgian immigrants who brought their building traditions and life ways to Door County and established the largest and best-preserved enclave of Belgian-American culture. The Pabst Theater and Turner Hall both reflect the urban history of immigration, when Milwaukee was the "German Athens," a high point of Germanic immigrant culture in America.
Wisconsin was a national leader in progressive reform at the turn of the twentieth century. Robert "Fighting Bob" La Follette inspired others to champion political and social reforms aimed at curbing the worst excesses of the gilded age. His success in breaking away from the Republican Party was heralded by an important political assembly held at the University of Wisconsin Armory & Gymnasium. The success of the Progressive Party ushered in an era of political reform in Wisconsin that became a national model. The Wisconsin Idea, embodied in the Wisconsin State Capitol paired University of Wisconsin scholars with government leaders to craft effective solutions to fundamental social problems like care for the aged and infirm.
Wisconsin shows us how place can shape profound ideas that reach beyond our boundaries and
Enlarge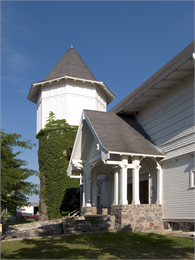 University of Wisconsin Dairy Barn
The barn where significant scientific research led to the growth of Wisconsin's dairy industry and reputation as the Dairy State. View the property record: AHI 16001
resonate throughout America. Aldo Leopold's "shack" in Sauk County was the site that influenced the noted wildlife ecologist's land ethic philosophy. University researchers like Charles Van Hise, working at Science Hall conducted breakthrough research in geology at sites like Schoonmaker Reef, Soldier's Home Reef and the Van Hise Rock. Along with the prolific fossil collecting of Dr. Fisk Holbrook Day and the collection amassed at the Thomas A. Greene Memorial Museum, Wisconsin became a leader in the geological sciences.
For some, Wisconsin became a springboard to national or even international acclaim, though they remained loyal to their home state. The Ringling Brothers Circus Winter Headquarters in Baraboo reflects Wisconsin's importance to the nation's performing arts. Here, the Ringlings built a circus empire that became "The Greatest Show on Earth." Their winter facilities, including an Elephant Barn, Hippo House, Bear and Deer House, and Camel Barn testify to the origins and rich history of one of the best known entertainment acts in the country. Likewise Ten Chimneys the home of Alfred Lunt and Lynn Fontanne, celebrates the lives and accomplishments of America's most famous theater couple, who innovative performances and long careers represent the pinnacle of their profession.
Some of our nation's greatest achievements in architecture and the arts occurred in Wisconsin. Taliesin marks a shift in the career of perhaps America's best-known architect, Frank Lloyd Wright. At this retreat, Wright abandoned the geometric forms of his earlier houses to create seminal architectural masterpieces such as the Administration Building and Research Tower for the S.C. Johnson Company, and Wingspread, the home of its president Herbert Johnson. Wright's first home for Herbert and Katherine Jacobs marked a new emphasis on middle class suburban housing that he dubbed "Usonian," while his design for their second home is an early experiment in solar architecture.
Wright's mentor Louis Sullivan is also heralded by many today for his innovative designs. His home for Harold C. Bradley and his family is one of the nation's most notable Prairie School designs. Near the end of his career, Sullivan designed eight remarkable "jewel box" banks in small Midwestern cities. His Farmers and Merchants Union Bank in Columbus was the culmination of this last phase of his inventive and influential career.
The 42 National Historic Landmarks in Wisconsin, many listed below, contribute to the collective history of both our state and our nation. These landmarks celebrate our national character and their preservation reminds us of our shared heritage.
Farmers and Merchants Union Bank, Columbus
Villa Louis, Prairie du Chien
Michael Brisbois House, Prairie du Chien
Science Hall, Madison
University of Wisconsin Armory and Gymnasium, Madison
Herbert A. Jacobs House, Madison
Harold C. Bradley House, Madison
Robert M. LaFollette House, Maple Bluff
North Hall, University of Wisconsin, Madison
Namur Belgian-American District, Union Township and parts of Gardner Township, Door County
Taliesin, Spring Green
Aztalan, Lake Mills
Oconto Site, Oconto
Ringling Brothers Circus Headquarters, Baraboo
Van Hise Rock, Rock Springs, Sauk County
Aldo Leopold Shack, Sauk County
Herbert F. Johnson House, Wind Point
S.C. Johnson and Son Administration Building and Research Tower, Racine
Milton House, Milton
USS COBIA (submarine), Manitowoc
Dr. Fisk Holbrook Day House, Wauwatosa
Fourth Street School, Milwaukee
Turner Hall, Milwaukee
Pabst Theater, Milwaukee
Ten Chimneys, Genesee Depot
Wisconsin State Capitol, Madison
University of Wisconsin Dairy Barn, Madison
Northwestern Branch, National Home for Disabled Volunteer Soldiers, Milwaukee
Learn More
National Historic Preservation Act 50th Anniversary in Wisconsin
Have Questions?
Contact Amy Wyatt by phone at 608-264-6506 or by email below:
amy.wyatt@wisconsinhistory.org
Save
Save
Save
Save
Save
Save
Save
Save
Save
Save
Save
Save
Save
Save
Save
Save
Save
Save
Save